Make the Move to a Cloud PBX Phone System
Solve all your communication needs with the GoToConnect cloud PBX phone system.
What is cloud PBX?
PBX stands for private branch exchange, which is a fancy term for a telephone system. Historically, a PBX was an expensive system managed in your office, but PBX systems have since evolved into cloud-based systems, provided by third parties through the internet. These more modern services are called cloud PBX.
Cloud PBX phone systems, sometimes called virtual or hosted PBX phone systems, remove the initial investment in PBX equipment and the ongoing expense of maintenance, enabling businesses of any size to offer internal and external calling without the high costs. And since cloud PBX systems are online services, you can take immediate advantage of newer features like video conferencing, paging and messaging as the technology evolves.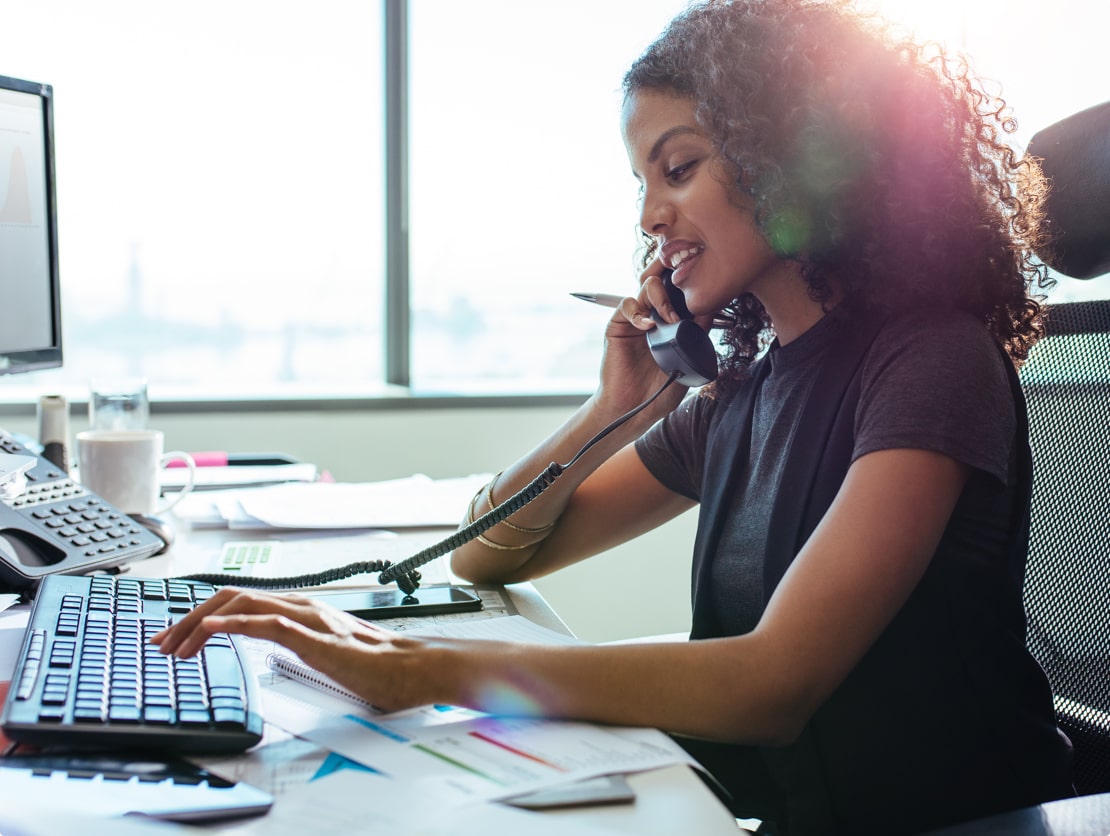 The advantages of cloud PBX
Traditional landlines can't hold a candle to the benefits of cloud PBX for business.
No huge upfront costs
A conventional on-site PBX can cost thousands of dollars just to purchase. On the other hand, cloud-based PBX services have much lower startup costs. You may only need to buy IP phones. Or you can just opt to call from your laptop or mobile device.
Highly flexible
There's no need to call your phone company to update your call routing or to tie up money for future capital investments. Cloud PBX lets you make changes on the fly from any computer or mobile device so you can easily customize your phone system as your business needs change.
Quick deployment
Thanks to its virtual nature, a cloud PBX can be up and running in hours. No cable cabinets or server switches necessary. Many cloud PBX phone systems are also designed with non-IT users in mind, meaning any office manager can easily set things up by themselves.
Worker mobility
Admins and users aren't tied to a brick-and-mortar office anymore. A cloud PBX system lets you take your business communications wherever you go. Your mobile workers can still make and receive calls using their business numbers just as if they were in the office.
WHY CHOOSE GOTOCONNECT?
GoToConnect makes cloud PBX remarkably simple and amazingly affordable. With fast setup, clear calling and great reliability – plus 24/7 customer support – your teams will always be able to stay connected, no matter where they work.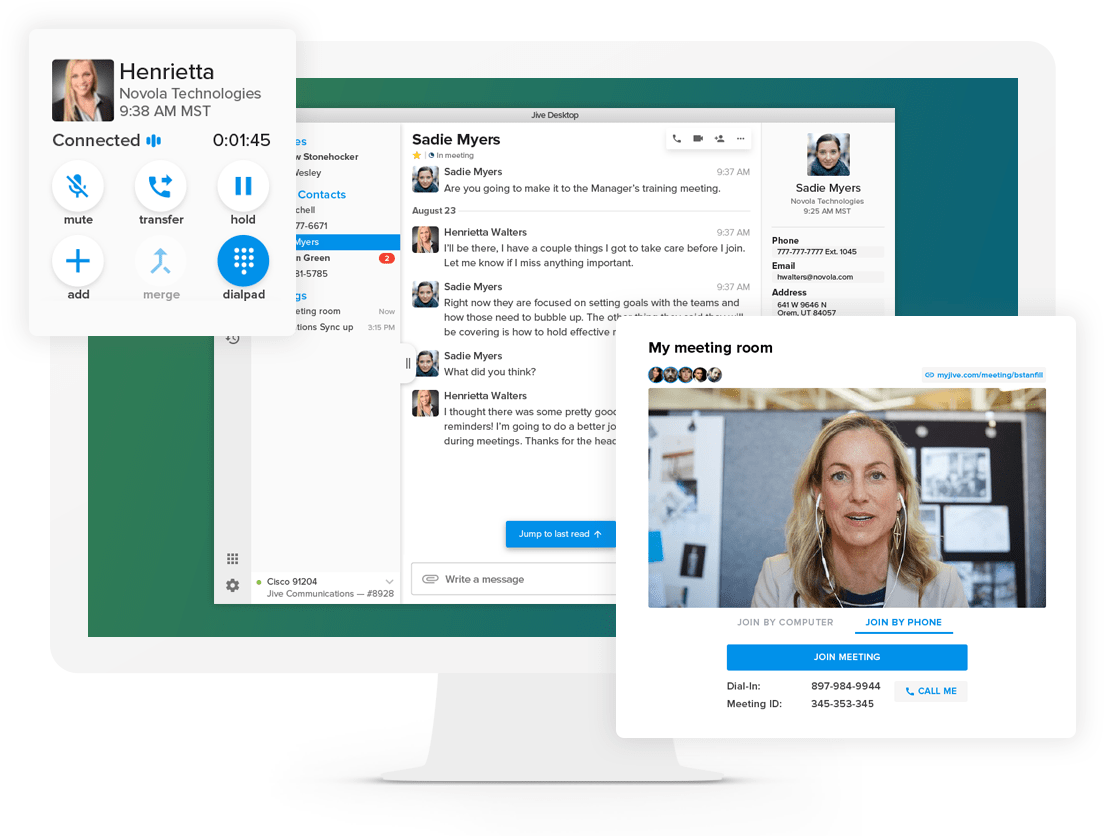 Reduced costs
The burden of your virtual phone system upkeep falls to us, so you can save time, money and effort. Plus, for one all-inclusive price, GoToConnect offers over 100 hosted VoIP features to help your teams communicate more effectively.
Top reliability
Our VoIP service is among the best reviewed and highest rated. And with a history of 99.99% uptime for VoIP, GoToConnect is as dependable as they come. GoToConnect is also backed by LogMeIn, one of the world's top 10 public SaaS companies.
High-performance technology
The GoToConnect cloud PBX phone system is constantly improving as we lead the market into the next era of unified communications and collaboration. These advances are yours free with the service, so you can stay up to date without having to lift a finger.
Visual editor
There's no need to call anybody to manage your calling setup, because you can easily do it yourself online. Make real-time changes and map out call flows with wait times, auto attendants, voicemail boxes and schedules through our visual Dial Plan Editor. It features a drag-and-drop interface for a clear view of everything, so it's easy to understand and change on the fly.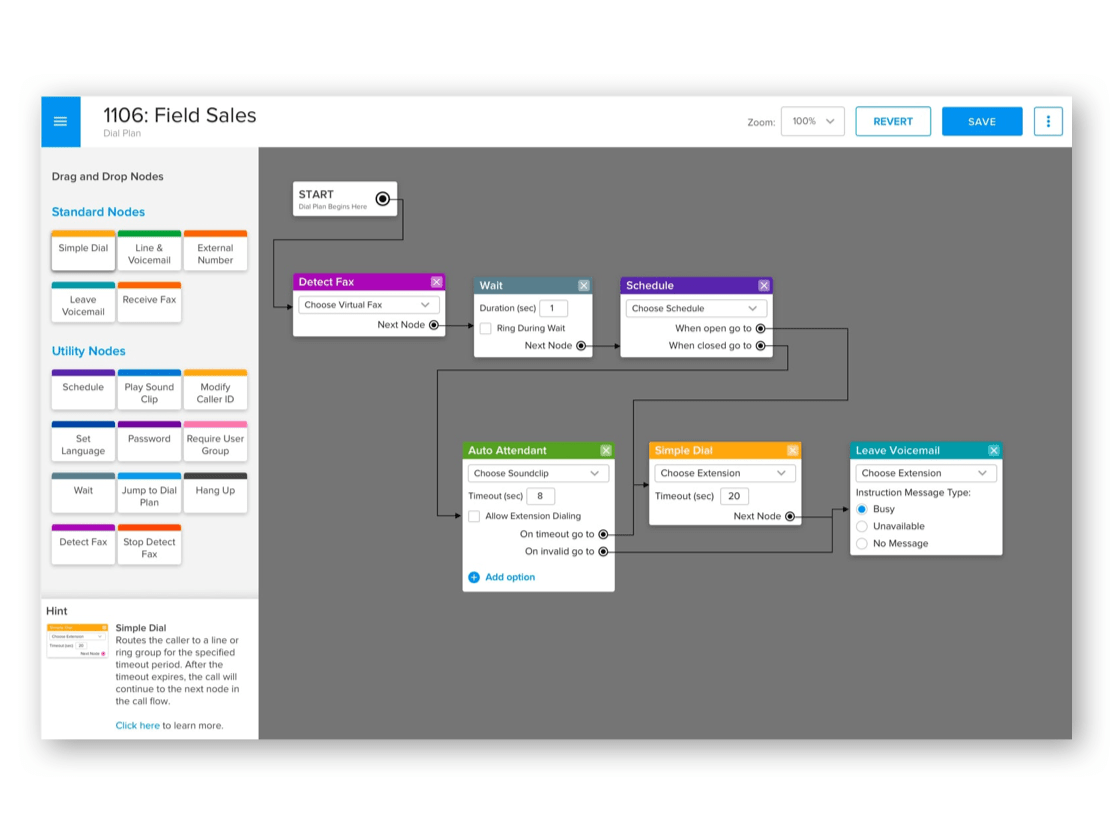 Anywhere access
You can access your GoToConnect cloud PBX phone system anywhere there's an internet connection. Mobile or remote workers can even use their own smartphones as business phones: answering calls, checking messages and staying connected through our mobile app. This freedom to work from anywhere ensures your team can be where they need to be without missing a beat.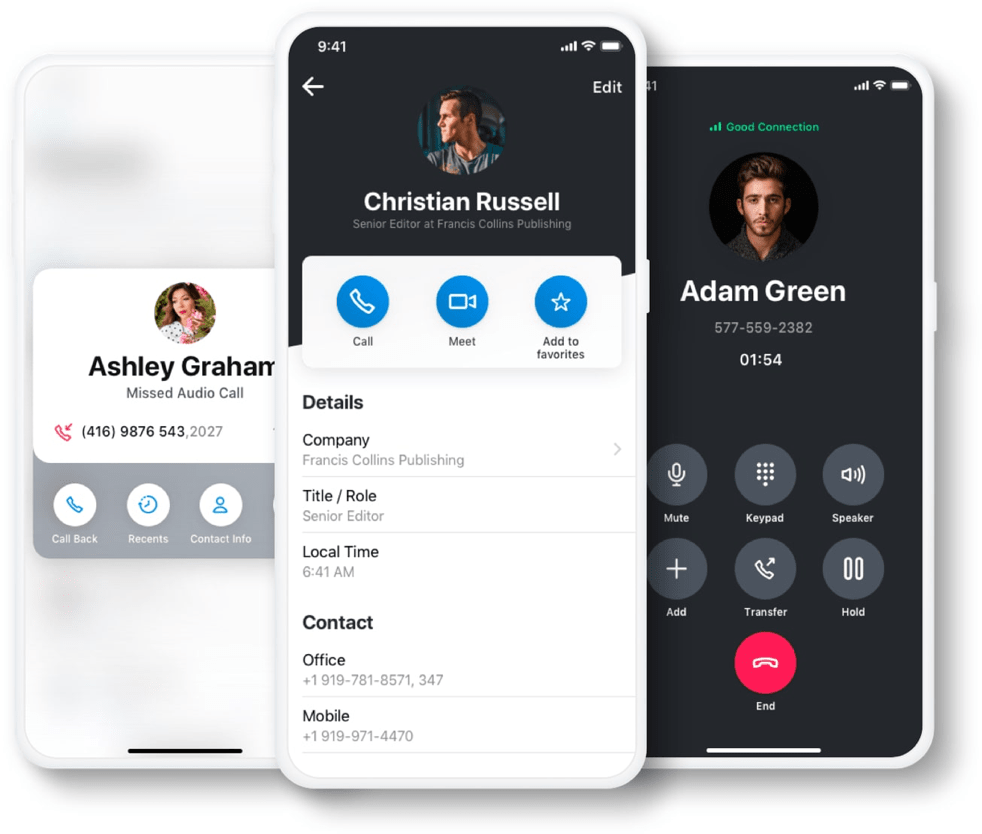 Easily scalable
GoToConnect enables organizations to expand without limits – our cloud PBX phone system can support 10 handsets just as easily as 100,000 or more. Since the service runs in the cloud, you never need to worry about adding your own servers. We handle it all. You just select what you'd like to add online, and the changes to your cloud PBX roll out immediately, perfect for smaller businesses that are rapidly growing.
All the cloud PBX features you could ask for and more
VoIP Calling
All employees can answer a call, place it on hold and have someone else pick it up.
Read More
Find Me/Follow Me
When one or more lines don't answer, calls roll over to the next available line.
Advanced Reporting
Get in-depth, clear data to estimate caller demand and improve response times.
Unlimited Extensions
Create however many extensions that your organization requires.
24/7 Customer Support
Connect with our world-class support anytime via chat, email or phone call.
Video Conferencing
Collaborate face to face in HD video with online meetings powered by GoToMeeting.
Read More
Cloud PBX Frequently Asked Questions
How do cloud PBX systems compare to on-premises PBX?

An on-premises PBX helps connect employees with customers worldwide, but traditional PBX systems require physical equipment purchases and certified technicians on staff for upgrades or repairs. These PBX costs can run high, and the phone system itself can be complicated to manage as business needs change. In addition, since your communications depend on one system, your business is at risk when a power outage occurs.
A cloud PBX system, meanwhile, can be implemented and customized easily by anyone, allowing your phone system to scale as your organization grows. Multiple cloud-based servers mean your system will always be available. And since cloud-based technology shifts costs away from your business. upgrading to a cloud PBX system can save your business money.

How much does a cloud PBX phone system cost?

Compared to a conventional PBX system, which can cost thousands of dollars to buy and just as much to maintain, cloud PBX is the affordable option. GoToConnect offers everything you'll need in a cloud PBX phone solution for one low, monthly per-seat price. Plans start at $19.95, with custom pricing available for large numbers of users.

Learn more

How do cloud PBX solutions work?

As the name implies, cloud PBX relies on cloud-based technology, which uses the internet to store and move data rather than hardware servers that you own on site. Your office phones still call in the same manner, but the voice signals are routed through the cloud by your PBX provider to their destination.

Is there any maintenance for a cloud PBX system?

In a cloud PBX solution, the responsibility for maintenance, upgrades and monitoring shifts from your shoulders to your provider's. So if any issues crop up, you don't need to allocate IT resources yourself to fix them. You can let your cloud PBX provider handle it. It's one of the strongest reasons to choose a purely cloud-based solution, because your business can get all the benefits of an enterprise-grade PBX system without any of the cost, worry or hassle.

What should I look for in a cloud PBX phone system?

The best cloud PBX systems combine the security and quality of on-premises solutions with the flexibility and simplicity of modern communications. You'll want a system that offers useful features like voicemail, chat, fax and video conferencing without asking you to pay extra.
Unified Communications & Collaboration. All Unified in the Cloud.
Discover what happens when the best in cloud communications meets the best in cloud collaboration.