Teaching is tough — especially when you're doing it online. Whether you're onboarding new customers or training employees, your goals are the same: get your point across, don't put anyone to sleep, build rapport, and perhaps even inspire action. With all that on your plate, technology should be the least of your worries. GoToWebinar can help put your mind at ease.
Webinars let you create learning experiences that are easy to produce, cost-effective, and practically as good as an in-person event. Here are five ways GoToWebinar helps you host the kind of training you and your audience love.
1. Hassle-free training video library
You've gone to the trouble of hosting a training session, but now what? Put that valuable content to use!
With GoToWebinar you can create a branded video library (called a Channel Page) full of all your past training sessions. This gives your audience an easy way to refer back to key training sessions when they need a refresher.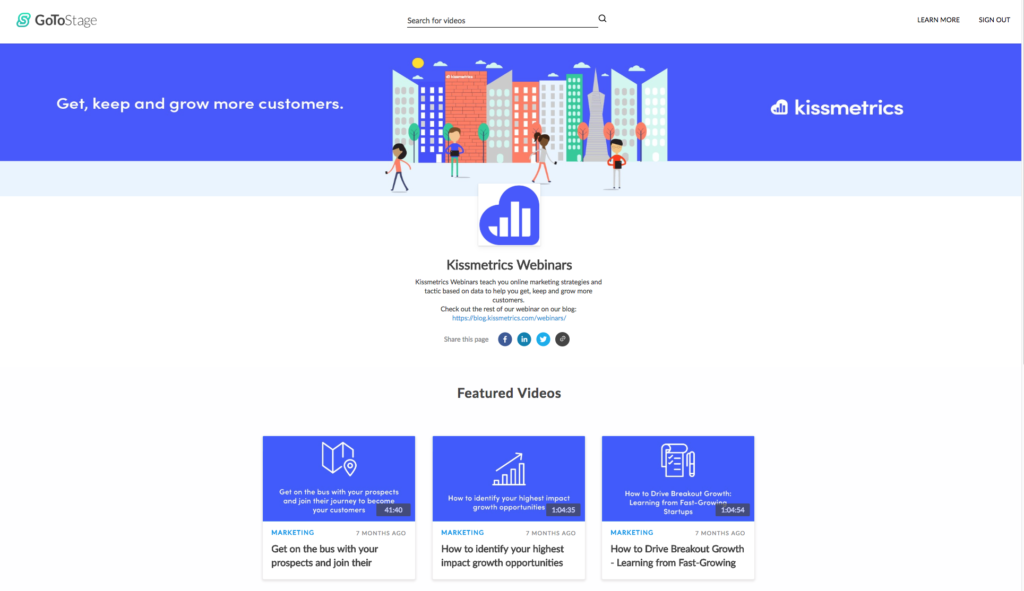 With one click, your recordings will automatically populate your video library, which you can conveniently share with your audience through a link. You also have the option to make your videos public on GoToStage, a video platform for professionals, where new audiences can find them.
2. Flexibility to host live or pre-recorded sessions
Hosting a live training session typically comes with a few challenges.
For one, presenting to a live audience is scary.
For two, scheduling can be a nightmare. This is especially true if you have hosts and/or attendees across different time zones.
And finally, your job gets really boring and tedious if you have to deliver the same presentation…over and over and over again.
With GoToWebinar's Simulated Live feature you can pre-record your webinar and get the perfect take without the stress. When your audience sees it, it will feel like a live event (meanwhile you're off enjoying a latte and working on other projects). The webinar will run itself and your attendees can still respond to polls and ask questions, which you can follow-up on after the event.
You can also pre-record parts of your webinar and do other parts live, for a hybrid event. These features offer you freedom from scheduling headaches and flexibility that will save you tons of time.
3. Simple set-up and scheduling
As a trainer, you need to focus on creating easy-to-understand, useful content. Setting up your training webinar and managing the invitations should be the easy part.
In a few steps, you can schedule a webinar, set up poll questions, and generate automated email invitations and registration forms.
GoToWebinar has tons of integrations to help you streamline your workflows. Integrations with tools like Zapier help you manage your webinars from the systems you already use.
4. Create a personal connection
Training is better with a personal touch, which can be hard to maintain in an online training situation. With GoToWebinar you can hop on your webcam and show-off your personality. For smaller training sessions, you can invite attendees to share their webcam when they have a question or something to share, which helps create an active learning environment.
You can also encourage participants to use the chat functionality to ask questions and engage with the presenter. The point is, your training can be a lot more than a disembodied voice sharing their screen.
5. Learning and retention through interaction
When you're training new employees, customers, or anyone else, a solid learning foundation makes a big difference. It can set the tone for the rest of your working relationship. Effective customer training, for example, can:
Cut down on future support issues
Increase product usage
Improve loyalty and retention
Research suggests people need a change in stimulus every few minutes or else they lose interest. Involve your audience in the learning process and make sure your training sticks with GoToWebinar's interactive tools including:
Handouts. Include relevant documents right in your webinar to help supplement or expand on your training.
Polls. Use polls to keep your audience engaged and test retention. If the poll results reveal the majority of your audience missed an important point, be sure to go over it again.
Hand Raise. Ask for a hand raise in response to yes-no questions, or let people know they can use the hand raise feature when they have a question.
Video. When it comes keeping your audience's attention you and your slides aren't alone. Show a video for a change of pace. Play a pre-recorded demo, show a fun movie clip, or anything else that help bring your training to life.
For more webinar tips and best practices, visit GoToWebinar's Resource Center.