June 14, 2023
Senior Solutions Consultant
#GoToGetsIT: This article is part of an ongoing series from GoTo's thought leaders on the frontlines: Our Solutions Consultants deeply understand our customers' unique challenges and connect the right solutions to meet their goals using GoTo technology. Here, they share their industry knowledge on what it takes to help businesses everywhere thrive in a remote or hybrid world.
In my last blog, I discussed how using messaging for customer outreach will benefit your business. In this blog, I'll discuss the other side of the customer interaction coin, when a customer needs to reach out to your business. Like with outreach, the more channels a customer has to reach you, the better. They are more likely to interact.
As consumers, we want quick and easy interactions when making purchases and getting support. Imagine you are looking for someone to professionally clean your carpets. You may use social media or a google search for recommendations.
Since 80% of consumers use social media to engage with brands, I'll start with that scenario.
Example 1: Sending a social media message
You post in your neighborhood or city Facebook group asking for recommendations and get three great options in response. You review their respective company Facebook pages, and message all three asking for a quote.

As a consumer, which of these companies are you most likely to do business with? I chose Company A. Within 5 minutes of my inquiry, I had a clear response and action plan. By the time Customer C replied, I had already scheduled with Company A.
Example 2: Sending a web chat
Perhaps instead of social media, you do a web search and check reviews of local companies. You start by searching for "carpet cleaners nearby" and get many results. You sift through some reviews and pull open five different websites.
Two have form fills to receive a call with your quote.
Two have phone numbers to call in for a quote.
One has a webchat service to chat with somebody for a quote.
As a consumer, which of these would you reach out to first?
I chose webchat. Consumers want easy and quick ways to get the information they are looking for. In fact, 41% of customers prefer live chat, compared to 23% who prefer email.
I prefer webchat over form fills, because there is an expectation of speed. I know I'll receive a timely reply, instead of waiting hours or days. While calling isn't difficult, it can sometimes feel intrusive on your day. For example, say you need to call your internet provider about a charge on your invoice. They are only open during your working hours, and it's been a busy day at work. Which feels easier?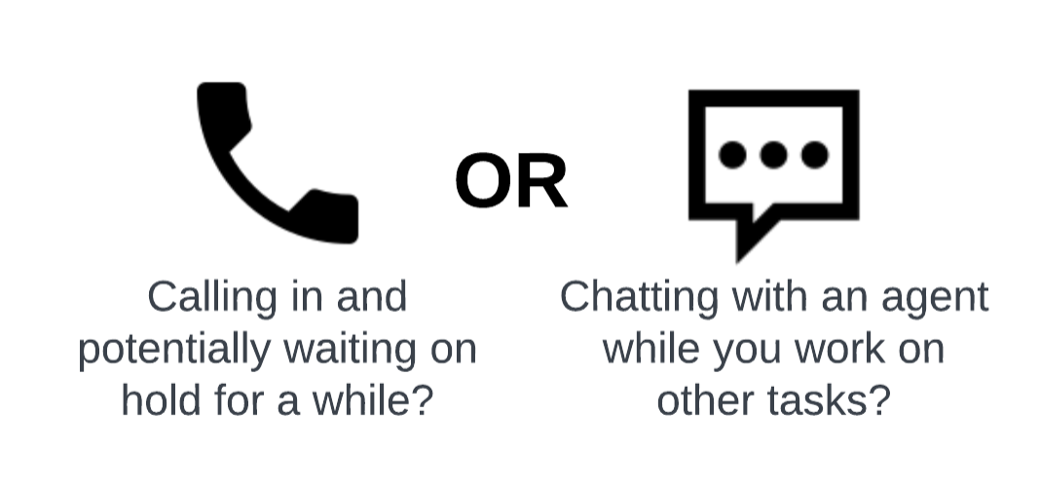 If you're like me and more than half of consumers, you also prefer to text instead of call for customer service.
We have all had the unfortunate experience of waiting on hold for lengthy periods of time — for airlines, banks, and retailers. As you listened to the dreaded hold music, did you wish you had another way to contact them? An email address, a chat on their website, a social media messenger, or even a number to text?
Some of the best customer service interactions I have are through messaging. When people have great customer service interactions, they are 77% more likely to recommend a company or service to friends and family.
The desire to message instead of call is not just limited to customer support-
The consumers have spoken, and they want to interact with businesses through messaging. And a tool like GoTo's Customer Engagement solution will give your customers quick and easy contact channels.