"How did you do that? More importantly, how can I do that?"
After seven-plus years of working with GoTo Meeting, I thought I knew it all. Yet there I was, looking at a co-worker with a headshot next to their name in the GoTo Meeting control panel and having no idea that that was even possible.
Also, I was jealous.
Turns out there are lots of little GoTo Meeting features that most people don't know about. Here are five I rounded up.
1. Change your name. Most people input their name once and never mess with it again. But what if you change your name? Or what if you're blessed with a cool nickname and want that to be your GoTo Meeting moniker?
Make it happen: Launch GoTo Meeting, click File and select Edit Your Name and Email. If you're on a Mac, choose Preferences from the File menu and edit the Name field.
2. Launch a Labs feature. Our team of mad scientists well-adjusted engineers are always testing new ideas, and most of them are available for GoTo Meeting users to try. Just remember, these are beta features and could be taken down for more tinkering at any time.
Make it happen: Launch GoTo Meeting, click File, mouse down to Labs and choose which of the beta features you'd like to try out.
3. Assign a profile pic. Speaking of Labs, this is that cool beta feature I mentioned above. When you're not using your webcam, it's nice to have a little picture next to the name on the screen. Especially if you're meeting with people you don't know.

Make it happen: Mouse to the Labs menu and select Profile Pictures. Then just drag and drop an image on the Attendees box in the control panel.
4. Turn off hold beeps. Nothing irks me quite like the beeps I hear when waiting for attendees to join one of my meetings. Lo and behold, there's a way to turn them off.

Make it happen: On a PC, go to the Audio pane of your control panel and click Edit. From there you can toggle on-hold beeps and (the quite lovely, IMO) entry/exit chimes. On a Mac, click the circled downward arrow on the right side of the Audio pane and toggle your preferences.
5. Change your webcam filter. It's an Instagram world, and we're all just living in it. So there is no reason why GoTo Meeting sessions have to be a #nofilter zone.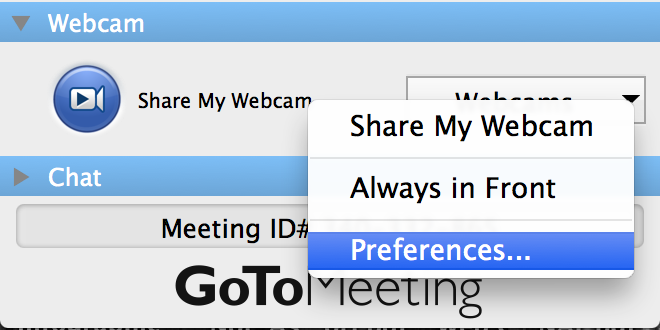 Make it happen: In the Webcam pane of your control panel, click the drop down menu and select Preferences. If your webcam supports different tones and filters, there will be an Advanced option. Click it and tinker to your heart's content.
These features and more await you inside your free 30-day GoTo Meeting trial.