Miro
Connect and collaborate with our Miro integration available across all GoTo products
Overview
Gather around a Miro board right in GoTo. Create more engaged teams, share ideas, and plan together in one place. Find all of Miro's collaborative features without having to switch tabs or sharing your screen.
Invite your team: Easily invite people to the board. Everyone will be able to see the content, edit the board, and follow the conversation at the same time. You can even start collaborating without a Miro account by opening a new board as a guest. Create a free Miro account within 24 hours to save your board.
Benefit from templates: Choose from hundreds of Miro templates to find one that matches your mission.
Boost engagement: Maximize the energy in your meeting with Miro's delightful tools, including ice breakers, emojis, voting, timers, and more.
Collaborate continuously: Leave every meeting with a living artifact of your discussion. Even after the live session ends, it's easy to continue the conversation.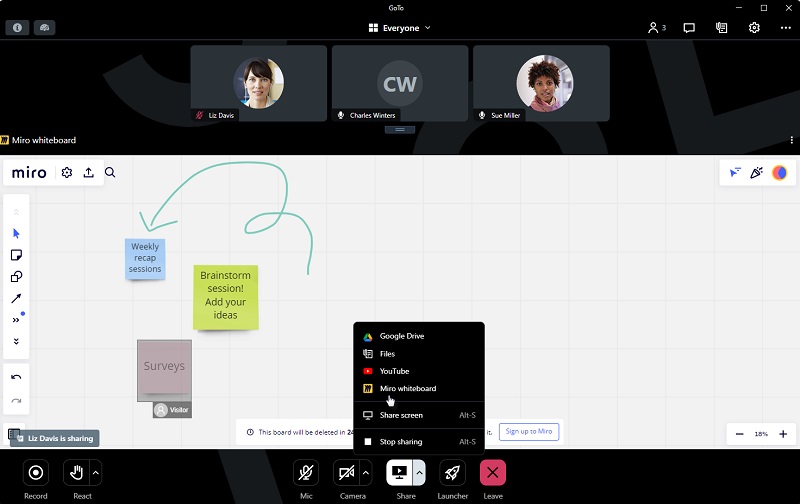 How To Get Started
During the training, select Share > Miro whiteboard.
If you have a Miro account, sign in using one of the available options, then choose a board available in your account. If you don't have a Miro account, select Create board.
Important: If you are not signed in, the board will be deleted after 24 hours or as soon as you stop sharing. Sign up for a free account to save the board.
The board will display within the GoTo app for all participants. Use the Miro toolkit to collaborate on the board.
Select to reload the whiteboard or maximize the whiteboard (hide camera feeds).