Over the past few years, choosing a Hosted VoIP provider often came down to features. "Which provider had the newest and greatest features?" But as predicted for 2018, the features sets offered by Hosted VoIP providers look more and more similar.
With the homogenization of feature sets, how does your IT team pick the best Hosted VoIP provider? Today, IT teams must consider new differentiators, like user experience (UX). UX may sound like a random criterion, but to quote a recent Forbes article, "it's never been more critical to offer users a seamless, frictionless digital experience that aligns with their daily lives."
If you want your executives and co-workers to embrace and utilize Hosted VoIP in their daily work life, pick a frictionless Hosted VoIP experience.
Why UX matters
Any substantial technology investment puts your IT department under scrutiny.
What if the product proves too difficult to use?

What if it requires too much effort to onboard company employees?

What if the employees don't end up using the technology?
If any of these scenarios play out, your IT team absorbs the backlash and blame. Executives will start to ask chilling questions like "All of that time and money . . . for what?" That's why it's crucial to consider the UX (user experience) when investing in new technology. IT teams must ensure that any new company technology is intuitive and easy to use for all employees—tech gurus or the tech-challenged. So let's discuss how your IT team can identify a frictionless Hosted VoIP experience.
A frictionless Hosted VoIP experience
Employees that use Hosted VoIP at your company will interact with the software. Get an idea about the quality of a provider's UX early on by asking for demos of the administrative portal and apps. To make an informed assessment, look for inconsistencies in visual language. Does it feel polished and organized? Is it actually easy to use?
And because demos show people how to accomplish basic tasks and navigate an interface, ask yourself whether it all seems intuitive. It's easy to spend a great deal of cognitive power remembering steps during a demo, but for a more effective UX perspective, ask yourself questions like: would I intuitively taken these steps to accomplish this simple task? Would I know what these symbols represent without someone telling me?
When your IT team approaches making a final decision, ask each Hosted VoIP provider to let employees take their products out for a run. (You'll want to get a diverse group from different departments and with varying backgrounds in technology.) Give employees a few tasks to accomplish, and see if they're successful. Do they have a positive experience, or does it feel full of pain points?
A frictionless example
To provide a tangible example of a frictionless Hosted VoIP product, look to Jive's award-winning Dial Plan Editor. Dial plans route incoming calls, and they get complicated. When someone calls, does it ring a receptionist first or go directly to an auto attendant? Suppose you route the calls to the receptionist. What happens if no one picks up?
Jive is transforming complicated tasks into something easy and intuitive, that enables users to do more. Jive's signature Dial Plan Editor lets you map out your call flows visually using a drag-and-drop canvas. An intuitive product like this empowers employees to set up their call flow. Your co-workers can incorporate this technology into their work life by determining exactly where incoming calls will go, and elements like wait times, auto attendant, voicemail boxes, sound clips, ring groups, and more.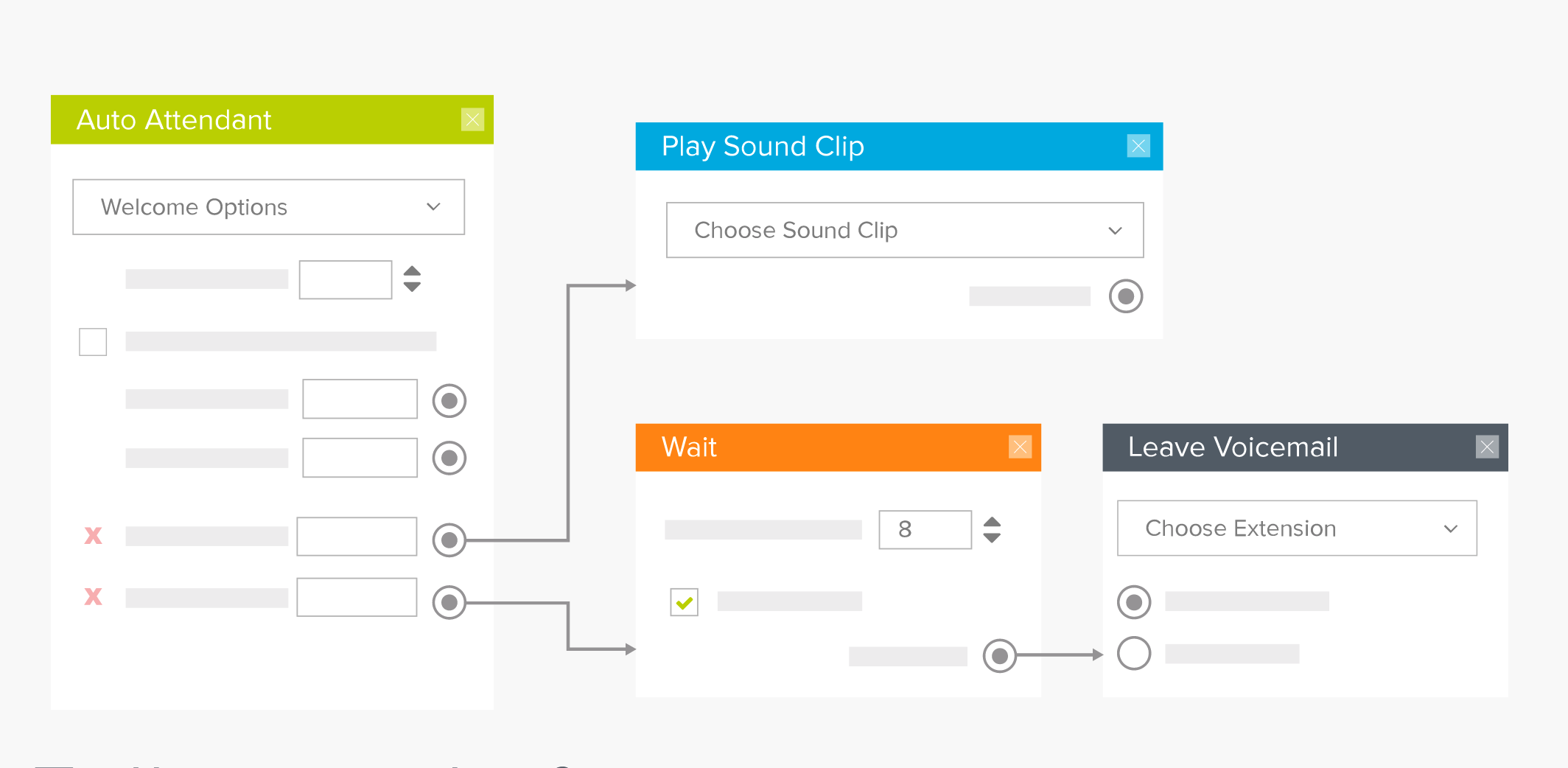 A provider that listens to users
Even products with stellar UX design, like Jive's Dial Plan Editor, can evolve and improve to make a better user experience. That's why it's advantageous to find a Hosted VoIP provider who owns and develops its own product.
Many Hosted VoIP providers white label their products—i.e. they sell someone else's product. A provider without ownership or a say in product development yields control and influence over the user experience. Whereas a company that owns products can field user feedback and implement those helpful ideas.
Jive is unique because they develop their own products and include a tool—on every app—that collects and reports user feedback.
"Jive's UX Design team proactively gains understanding about our users: we chat with users at every stage of a product's development, we ask users to review design hypothesizes, we conduct usability tests for ease of use,  and we collect and review all user-submitted ideas.

One Jive user was 'surprised that someone actually read their feedback.' No one, from any other company in their life, had ever responded to their suggestions.

By engaging Jive users, we learn essential information about designing a frictionless product. And we're never satisfied. A product is never 'done.' We're always looking for ways to improve."

—Britton Stanfill, Senior Manager UX Design
Pay attention to UX
Too often companies invest in technology for a competitive edge, but they lose that competitive edge because their employees will never use it. Don't let your IT's investments sit unused. Find a Hosted VoIP provider that offers an easy and intuitive experience for users. For more information on choosing the right Hosted VoIP provider for your company, check out our free Hosted VoIP Buyer's Guide.