An 89% confidence in the national economy? That's staggering! It's hard to get survey results like that for anything. Looking at three different studies about the mid-market, all of them report an unprecedented optimism for 2018. So why are these well-seasoned business executives so confident about the future of the middle market?
The Reasons for Middle Market Confidence
It seems likely that this mid-market optimism was significantly bolstered by certain events. This is probably best illustrated by comparing Citizens Commercial Banking's survey with J.P. Morgan's survey.
CCB's survey of 300 CFOs paints a more conservative optimism: 50% thought that the economy would improve, 30% believed it would stay the same, and 20% posited it would worsen. This more tempered confidence could be attributed to the fact that CCB only surveyed CFOs. (Perhaps CFOs are just more conservative . . . because of their fiscal natures?)
Or the conservatism derives from when the survey was conducted. CCB surveyed CFOs at the end of Q3, and J.P. Morgan surveyed began their survey 11 days after congress passed a pro-business tax reform bill into law. It seems that the tax bill passing into law on December 22nd 2017 was a powerful catalyst in this unprecedented positivity.
J.P. Morgan similarly concluded that the contributing factors to mid-market executive positivity are:
A strong economy

Regulatory reform

Tax cuts
Growing Middle Market Concerns   
While they're optimistic about the trajectory of the economy, many middle market leaders share growing concerns about the future too. In particular, attracting and keeping talented employees. Executives are worried about finding employees with the exact skill set that they need.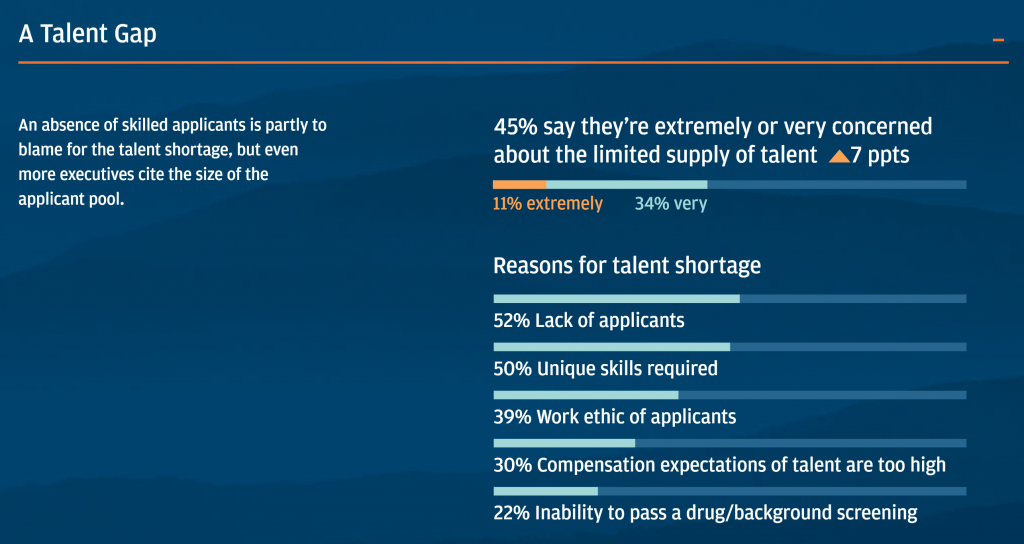 This problem with talent also brings worries about costs.
"Cost concerns have risen throughout the year . . . as a long-term challenge. Managing healthcare costs remains an issue. Companies are also feeling salary pressure and may need to increase their recruiting and labor expenses due in part to a tightening labor market. "

—4Q 2017 Middle Market Indicator
Investing Mid-Market Optimism
So leaders of middle markets are optimistic, and they're also concerned about costs and finding people with the right skills. So when you're optimistic and have these concerns, where do you invest your money?
The results on this questions are a bit mixed. Mind that this is all speculation. Surveys can ask middle market companies where they intend to invest in 2018, but what they actually do can be an entirely different story.
Citizens Commercial Banking survey concludes that CFOs will invest their time in cutting down costs: "81% of the CFOs surveyed said one of their key objectives in 2018 is to improve operational efficiencies." Cutting costs seems to be a sentiment in all three surveys. 
A Hiring and Wage Increase?
It's clear that for executives who were surveyed that this is an exciting time for the mid-market. But what does it mean for everyday Americans—the people that work for these companies?
The political discussion around the tax reform has placed pressure on businesses to utilize their tax savings to increase wages and hire new employees. Many still remain skeptical after a dozen of influential companies giving their employees bonuses. So it's interesting to look at the mid-market optimism  as an extension of that discussion. Especially when middle markets describe a concern about cutting costs and managing to lure skilled workers to their company. 
What executives say, wish, and what they can achieve are not necessarily the same thing. But J.P. Morgan does directly ask middle market leaders where they plan to invest all of their tax savings.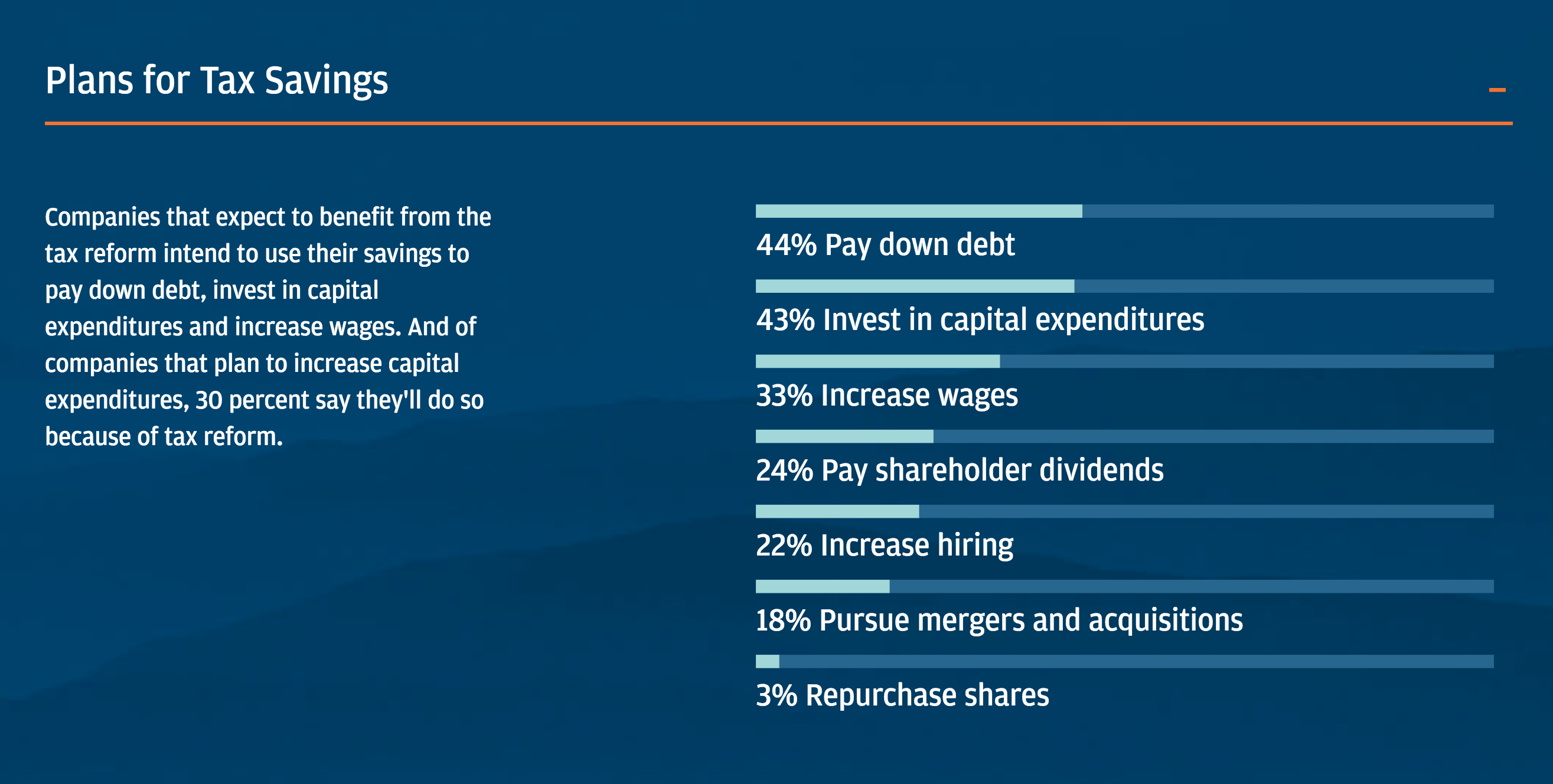 Cautiously Optimistic
These three surveys look at the economy from the perspective of middle market leaders and they find a lot of optimism. Does that mean that the rest of Americans should be optimistic too? That depends.
Many Americans have a different definition of the economy than those surveyed. The economy is not the stock market; it's their lived experience. It's a wage increase and better health care. We can hope that all of this middle market growth will increase wages and improve health care benefits, but we'll have to wait and see.  

Survey Sources
J.P. Morgan Chase | 2018 Business Leader Outlook
1,685 C-suite executives from middle market companies in various industries across the country between January 2-19th 2018
Citizens Commercial Banking | CFO Outlook 2018 Middle Market
1,000 CEOs, CFOs, and other C-Suite executives of America's middle market companies to represent $10MM and $1B
National Center for the Middle market | 4Q 2017 Middle Market Indicator
300 middle market CFOs at the end of Q3