If I type "flashlight" into my iPhone app search, over a dozen flashlight apps appear. So many choices! Too many choices. To avoid becoming a dime-a-dozen in this oversaturated market, app developers need to create differentiators in their app's design and engineering. Here at Jive, that's just what we've done.
Jive's pleased to announce our Jive Mobile 3.0 release for iOS and Android. With five game-changing improvements every Jive customer will appreciate, Jive Mobile 3.0 is a marvel in design and engineering. Jive Mobile 3.0 offers better:
Audio quality
Security
Battery-life
Reliability
User-experience
And with these recent updates, Jive Mobile is far more competitive with top-tier mobile apps. In fact, Jive Mobile 3.0 is perhaps the best Hosted VoIP mobile app currently on the market. Let us explain why it's so great.
Solving for SIP (Session Initiation Protocol)
Jive Mobile 3.0's ingenuity begins with the SIP problem. If SIP is an unfamiliar term, here's an excellent Jive video explaining SIP in under 2 Minutes.
To put it simply, SIP keep-alives in a mobile environment present two problems. First, it zaps your battery. Like the Jive video describes, SIP is always ready to receive a request—to respond with a 200. Because it's always waiting to receive an invite, maintaining this persistent connection keeps your antenna on and drains your battery. Second, SIP keep-alives lower reliability. They lower reliability because Android and iOS won't guarantee that SIP connections stay alive while the app is in the background. So if the operating system kills the SIP connection, you no longer receive VoIP calls.

Our development team realized that in order to create the best app out there, we needed to bypass SIP. With Jive Mobile 3.0, Jive's developers turned to WebRTC. There are several benefits for this change:
Improved Battery-Life and Reliability
Battery-life is at the core of our 3.0 release. The old app used SIP keep-alives to keep a connection open. Using push notifications, we've vastly improved battery-life, and reliability receiving your calls on the go.
Superior Audio Quality
Packet loss and jitter on a bad network can kill your call quality. Our app adapts to network conditions. Our audio codec ability with Opus can scale between 8 and 50kbps to compensate and maintain your call quality.
VoIP vs. WebRTC
Jive Mobile's adoption of WebRTC is almost ironic because of the complicated history between VoIP and WebRTC. Some worried that the success of WebRTC was the emergence of a powerful rival to VoIP technology. (It's caused some anxiety within the VoIP community.)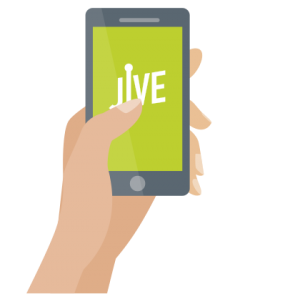 Yet, we're starting to realize that this is not necessarily the case. For example, this summer, an article for Voip-info.org clarified the "confusion in the telecommunication industry." Instead of seeing WebRTC as a competitor, the article illustrates that the similarities and differences between the two neutralizes any threat to either market.
To make nice, the article also points out a possible situation when the two could actually be compatible: "WebRTC makes it feasible for web developers to enable VoIP into their web-based applications."
And that's exactly what Jive Mobile has done! We've happily married these "supposed" enemies.
And There's More!
Along with uniting these star-crossed lovers, Jive Mobile 3.0 also includes additional game-changing improvements.
Increased Security
Our Jive Mobile bouncer just got bigger and more intimidating. With Jive Mobile 3.0, all of your calls and texts are encrypted. So communicate on the go knowing your conversations are secure.
iOS Improvements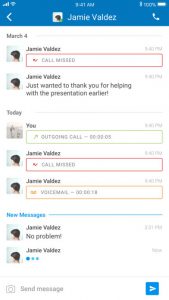 To give you a native calling experience from your Jive extension, Jive Mobile 3.0's iOS app utilizes Apple CallKit. This improvement provides our Apple users with seamless integrations that improve the functionality of Jive Mobile.
You can bypass the lockscreen.
Jive calls will no longer be backgrounded when a call to your cell phone comes in. Jive calls are weighted the same as a call to your cell.
Your call history will now include Jive calls, so calling someone back is a easy and intuitive.
The ring control is the same for Jive calls. If you need to silence a call, it's as simple as flipping the switch.
Heightened User-Experience
Our user experience team has redesigned the app to make it easier to navigate. We've talked to a lot of customers and tested the design to make the app simple and intuitive so you can efficiently communicate with your coworkers and customers.
Along with the design being intuitive, the design is also attractive! Jive was just awarded two 2017 Platinum MarCom Awards and a 2017 Gold MarCom Awards for our superior designs. When you look at our Jive Mobile 3.0, you can clearly see that award-winning calibre of design.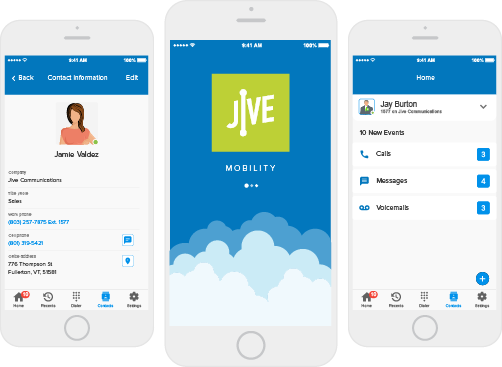 Jive Mobile—Making Your Work Life Easier
Jive Mobile only uses WebRTC—we've found a solution that doesn't rely on SIP. Most of Jive's competitors are still using SIP. Instead of SIP keep-alives, competitors are using push notifications, and then they use SIP to negotiate the call after receiving the push notification. And third party apps are even further behind because because they're still using SIP keep-alives! This is how the ingenuity of Jive's mobile gives our customers the best mobile app.
Jive also surpasses our competitors' mobile apps with our lean and user-friendly design. Other providers overload their mobile offerings with complicated features. Instead of slogging our app down with heavy and technical additions, Jive envisions a mobile app that mirrors the features and capabilities of your desk phone.
After all, apps should be easy and quick. Because apps are supposed make your life easier—not more complicated and time-consuming.
So check out the best Hosted VoIP mobile app on the market. Download the latest versions of our innovative, good-looking, speedy, and user-friendly Jive Mobile for iOS and Android. It's the perfect specimen of an app that can make your work life easier.
For more app recommendations, read "17 Business Apps to Make Your Work Life Easier."