The insurance world is changing rapidly. Are you keeping up? Hosted VoIP is not a cure all for the upheaval in the insurance market, but utilizing the new capabilities of Hosted VoIP could help you neutralize many of the challenges your insurance agency faces today:
customer service

collaboration across multiple locations

communication reliability

recruiting a new generation of insurance agents
#1. Improving Customer Relations
Missed phone calls can have dire consequences in the insurance industry. First, you have clients calling you when they need help, and that doesn't always neatly fit neatly into the work hours between 9-5. Second, accruing new leads seams to be 80% of the job these days, and if you're away from your desk and can't answer the call of a potential client, it could cost you.
So don't miss a call. Your business communications should be as on the go as you are. With Hosted VoIP, you can use apps like Jive Mobile, which allow you to take business calls and send business texts on your cell phone. You don't have to ever miss a call or give out your private number again!
Fax on the Go
Insurance brokers fax a lot. This can be a pain for our modern, millennial-filled, mobile workforce, so accomodate the needs of your agents. Jive's virtual faxes allow your office to get rid of that bulky fax machine, and it lets your agents send and receive faxes through email. Voila—fax on the go!
Time-Saving Features
Insurance agents can work unconventional hours, and Hosted VoIP features like auto-attendants makes it easy to customize your availability with personal time-based routing and messages. Auto-attendants can also save your agents a lot of time. For example, set up a recorded message for all callers that can direct them to the 24-hour claims department or to the agent setting up their policy. One, this gets your customers where they need to go without confusion or being passed around the agency. Two, instead of fielding claims calls, your agents can focus on selling.
Training Features
Jive Voice features include resources to help improve your employees' phone skills. Our clients at American Family Insurance particularly found that call recording, call analytics, and call monitoring dramatically improved their customer service:
"Call monitoring and call recording allow me to listen in to how my employees handle our client's claims and questions. It is a perfect tool to help me assist my agents in improving their skills."

—Rob Hamann, American Family Insurance
For more examples of how Jive's feature-rich plan helped Rob and his co-workers at American Family Insurance, take a look at our case study.
#2. Collaborate Seamlessly
Remote work is trending, and it's common for agents to be spread out over different locations. This dispersal of locations and employees makes it difficult for insurance agencies to unify company communications. Luckily, Jive is in the Unified Communications as a Service (UCaaS) business. You can add a free conference bridge for every employee so you can integrate multiple locations and remote workers. Your agency can also utilize our 3-way conferencing and visual conferencing to conference like a boss.

#3. Survive Stormy Weather
Insurance is the business of emergencies. If you sell car insurance, your busiest times of the year are snow storms. Whether it's home insurance, car insurance, travel insurance, life insurance, or medical insurance, inclement weather can either exacerbates or can even cause insurance emergencies for your customers.

This poses a problem. If those same storms that flooded your customer's home also takes out your means of communication—internet or telephone line—how can you be there when your customers need you most?   

Insurance agents need communication insurance. When the metaphorical and physical storms hit, Jive is the best Hosted VoIP provider for insurance agents. Jive Communications is the only Hosted VoIP provider that provides communication in these dire circumstances. Our solution is Jive Business Continuity, which preserves your most essential phone and texting functions during an Internet disruption or a complete outage.
#4. Recruiting the next generation of insurance agents
No one can deny that one of the most pressing problems for insurance agencies is their aging workforce. The aging workforce is a concern for many industries, but it will deliver a remarkable blow to the insurance industry.  

"According to the U.S. Bureau of Labor Statistics, the number of insurance professionals aged 55 years and older has increased 74 percent in the last 10 years; by 2018, a quarter of insurance industry employees will be within five to 10 years of retirement.
Most U.S. employers are woefully unprepared for the business realities of an aging workforce."

—Property Casualty 360 "Top 7 Insurance Industry concerns for 2017"

Millennials currently make up the majority of the workforce in America, and yet three-fourths of insurance agencies employees are currently 55 and older. The takeaway? Insurance agencies are failing to recruit the next generation of insurance agents.

To prevent chaos when three-fourths of insurance agency employees reach the culturally acceptable age of retirement, insurance agencies need to replenish their ranks with millennials.

How do you attract and keep young millennial workers? One answer is technology.

The Allure of Hosted VoIP Technology
As a Wire article points out, 75% of the workforce in 2030 will be "hyper-connected, tech savvy generation" of millenials. Our company, Jive, also found this to be true. In a recent study conducted by Jive, we found that millennials are increasingly relying on new telecommunication technology (e.g., cell phones and internet-based solutions) in the workplace instead of landline technology.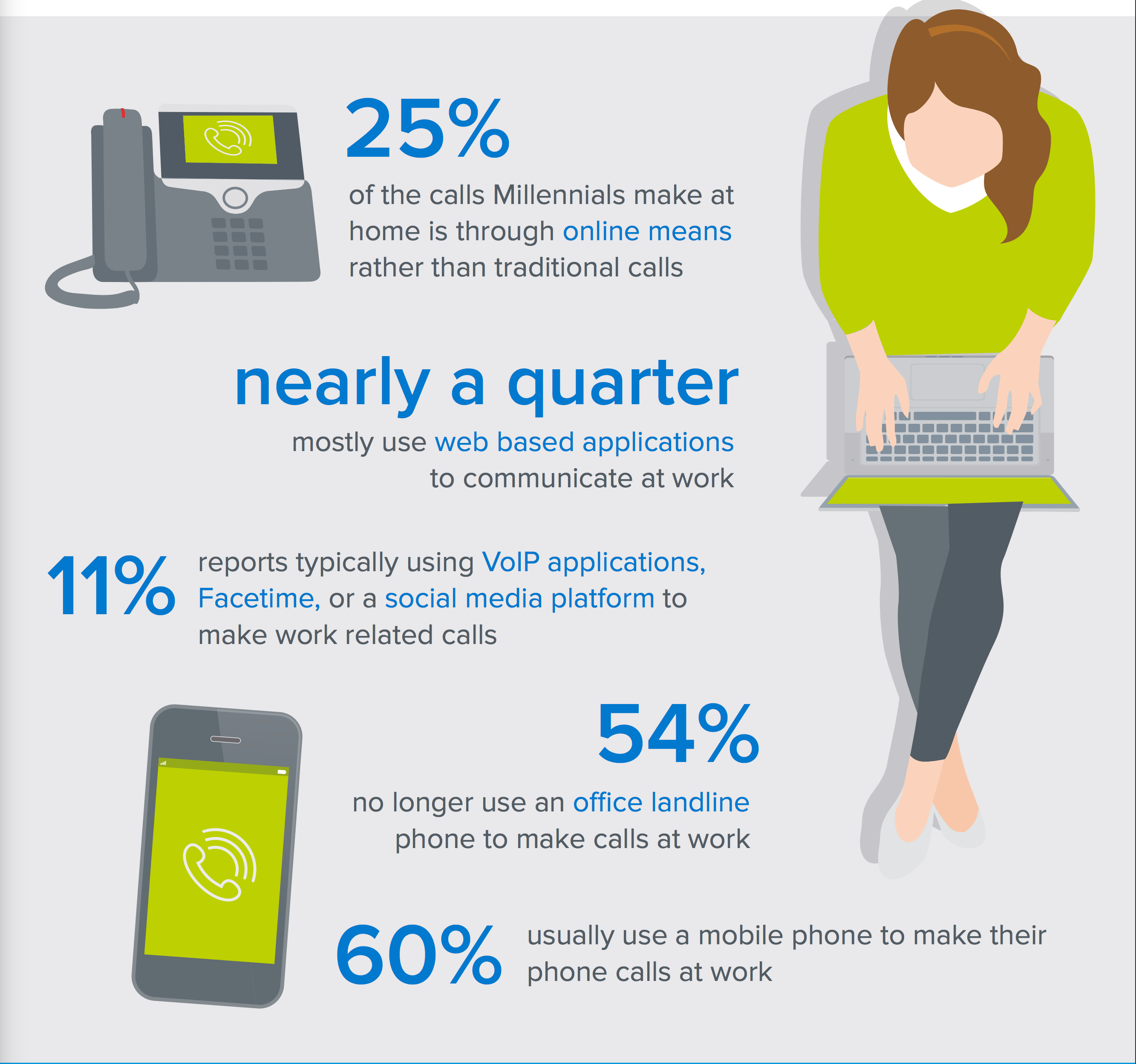 The insurance industry is already behind in technology, and many experts foresee a day of reckoning. (The encroachment of insurtechs in the market is the number one problem, which VoIP can't solve.) However, insurance agencies changing to Hosted VoIP may help attract more millennials to the industry. Emphasizing that your agency utilizes the latest technology so agents can email faxes from anywhere, text from their business number on their smartphone, and can work remotely, can be enticing.

Between improving customer relations, connecting different office locations, providing continual communication during stormy weather, and helping to attract the next generation of insurance agents, Hosted VoIP can make a sizeable difference in your insurance agency.
Ask for a demo of Jive Voice today, so you can personally see how Hosted VoIP will improve your agency communications.