Welcome to the Marketo Outage of 2017!
If you're in marketing, you know Marketo Inc. The company ranks up there with other marketing goliaths like HubSpot, Pardot, and Eloqua. It's a powerhouse with thousands of clients. Just last year, it was acquired for close to $2 billion.
At Jive, we're avid users of Marketo's marketing automation products, and we're not the only ones. Marketo has made life easier for the marketing departments of other widely recognized industry leaders like Microsoft, Panasonic, GE Healthcare, and Triumph Motorcycle.
But not today.
How It Started
This morning, our marketing department received the following email from Marketo Support giving us a head's up about the outage: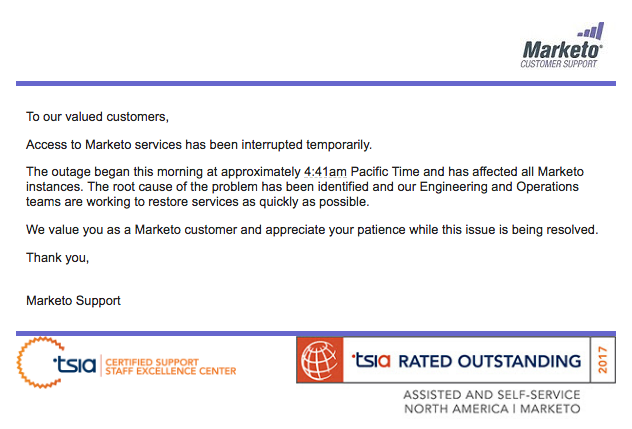 The email seems to suggest this might be a simple technical glitch. But social media hinted at something far more drastic . . .
Apparently, Marketo forgot to renew its domain.
How to Cope with the Marketo Outage
Unfortunately, these reports seem to bear out. If you went to Marketo's website earlier, it was down. Even its status website wasn't responding. Which meant marketing teams were locked out of their accounts, leaving them unable to work on any of their campaigns.
And as is the case whenever an event like this threatens marketing teams, what do we do?
We come together and tweet.
On Twitter, you'll find a host of hilarious memes and gifs seeking to express frustration, provide a welcome distraction, and provide context to our woes. Check out some of our favorites:
https://twitter.com/emeraldcitylove/status/889870131941257216
On a More Serious Note . . .
Not that the Marketo Outage is all fun and games. Marketo is scrambling to make this right, and marketing teams around the world are scrambling as well. Without Marketo, website forms aren't capturing leads, marketing emails aren't getting sent, and there are questions about the security of any data stored through Marketo.
The Marketo website has since returned. Hats off to Marketo for turning this around so quickly! And to whoever was responsible for renewing the domain—what a morning you must be having!
More Marketo Outage Tweets You'll Love