73% of B2B marketing and sales leaders say webinars are the best way to generate high-quality leads — and for good reason. In fact, we know the average webinar attendee session time is nearly an hour. No other content drives that kind of engagement.
But not all webinars are created equal. After analyzing thousands and thousands (and thousands!) of webinars we discovered what the top performing webinars have in common. So if you've ever wondered how you should be promoting your webinar, when to schedule it, or what you should call it, we have the answers.  
Check out some of the most interesting stats from our new webinar benchmark report, and see how you can apply them to your next webinar.
If you're interested in the full report, download it here. 
1. 29% of all webinars are produced by software and technology companies.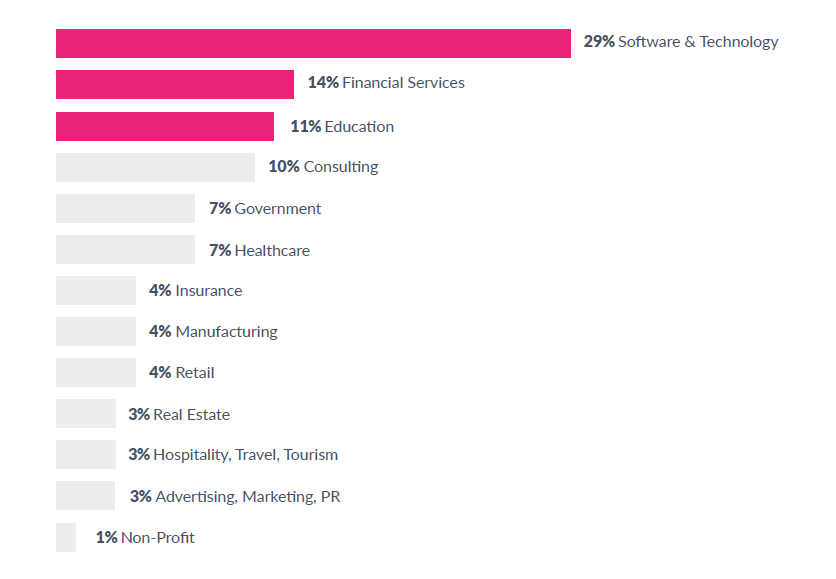 While webinars work across industries, the tech sector has made webinars an integral part of the way they market, train customers and host internal communication. In fact, 92% of GoToWebinar users agree that webinars are the best way to engage a large, remote audience.
2. 36% of registrations occur between 8-10 am. 
Launch your webinar promotions when people are most likely to register. Make sure your email invite is at the top of your recipients' inboxes right when they get to work. Avoid promoting your webinar in the afternoon as there is a steep drop-off in registrations starting around 2pm.
3. 59% of registrations occur less than a week before the webinar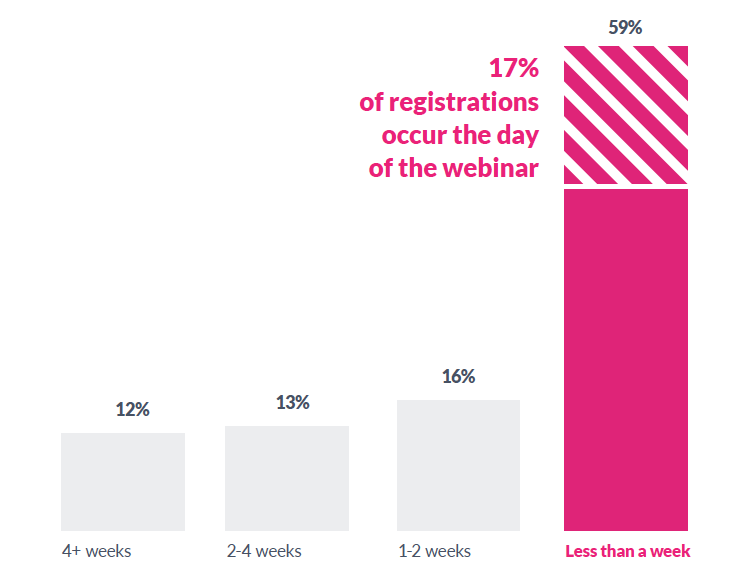 Registrants like to procrastinate. Registrations are usually pretty steady three to four weeks prior to the webinar, but there's a huge bump in registrations one week before the event. In fact, 59% of registrations occur the week prior to the event and 17% occur the day of the webinar.
Start your webinar promotion at least four weeks prior to your webinar. Then increase promotion the week before your webinar—post more on social and send one more email blast the day of the webinar. For recipients who haven't registered yet, send out a "last chance" email to encourage last-minute registrations.
4. Email drives 57% of webinar registrations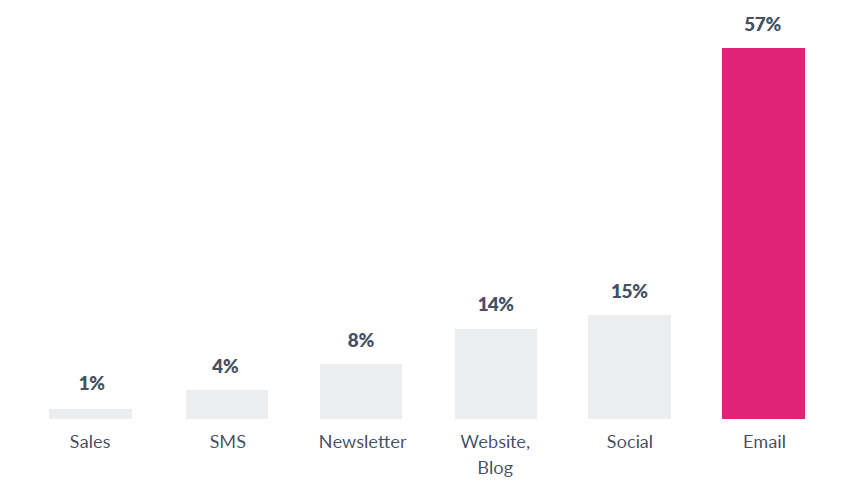 When developing your webinar promotional strategy, a solid email campaign should be your highest priority. Not only is it an unpaid tactic, making it very budget friendly, but it's incredibly effective. Increase your email reach by partnering with an influencer or other company in your space and leverage their email list.
5. 67% of registrations are for 60-minute webinars. 
Contrary to popular belief, shorter webinars aren't better. This was one of the most surprising insights we discovered. Webinars scheduled for 60 minutes attract 67% of registrations, while 30-minute webinars only attract 8% of registrations. Longer webinars are viewed as more valuable, so you'll get more high-quality registrants.
But don't be afraid to experiment and see what works best for your audience. You might want setting aside 30 minutes for your presentation and leave 30 minutes at the end for Q&A or a live demonstration.
6. 10 and 11 am are the best webinar times to attract attendees.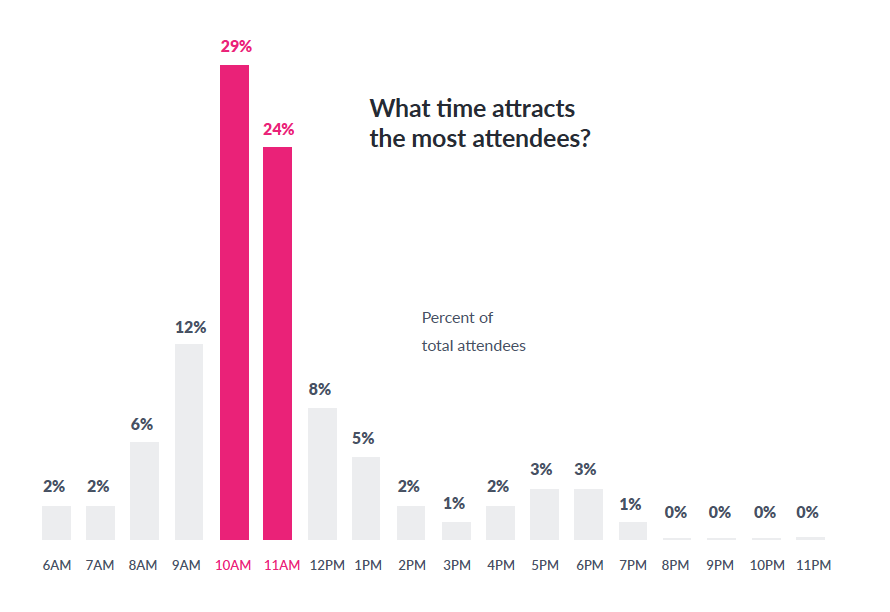 Maximize attendance by scheduling your next webinar at 10am or 11am PST. If you're worried about competition with other webinars, you may want to experiment with less popular times and see what kind of response you get. Also, consider different time zones if your webinar will be viewed across the country.
7. Wednesday and Thursday are webinar days.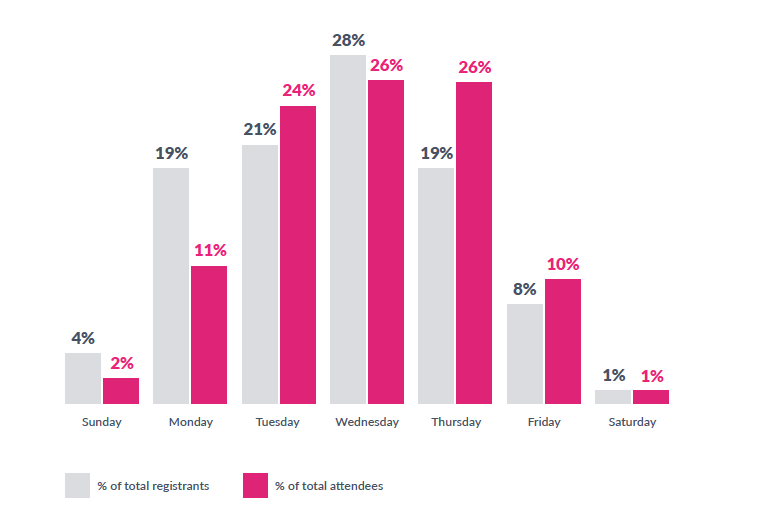 The most popular days to host a webinar are Wednesday and Thursday because that's when people are most likely to attend. Both Wednesday and Thursday attract 26% of attendees, making up more than half of all webinar attendance.
8. 78% of webinars have 50 or fewer attendees.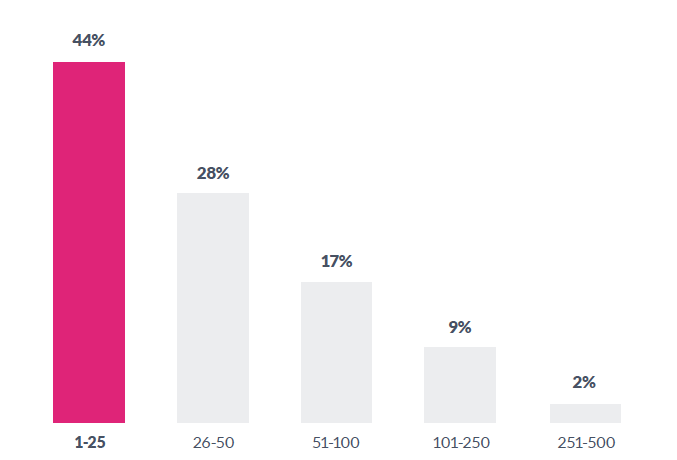 The majority of webinars have fewer than 50 attendees. So, if your webinar attendance is low, you're among friends.
Don't focus too heavily on attendance rate. Our research shows that little can be done to influence attendance — people are just busy!
Instead, optimize for registrations by promoting on the right day, using email to get the word out, and giving your webinar an irresistible title. Once someone registers for your webinar, you'll have plenty of opportunities to engage them, including with your on-demand webinar.
9. Marketing webinars have an average attendance rate of 44%.
Most marketers think of attendance rate as a key performance indicator. While you should track this metric, the reality is your impact on it is limited.
Focus your energies on driving registrations instead. Once you've gotten a prospect to register, you have a great opportunity to continue the conversation and nurture those webinar leads. Add them to relevant nurturing streams and invite them to explore your other webinars and content.
10. 78% of marketing webinars use live Q&A, but only 15% use polls.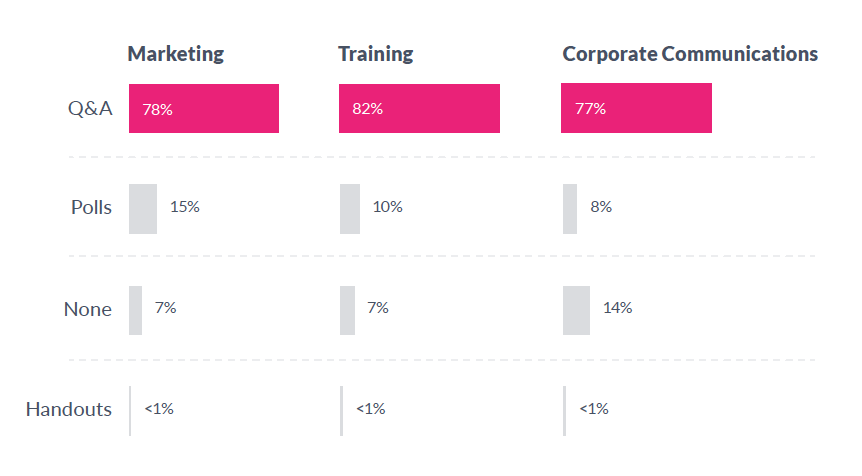 Give the people what they want, and always include a live Q&A session. But be sure to take advantage of other audience engagement tactics to keep your attendees' attention throughout the entire webinar. Try using some of these tools to shake up your webinar format: hand raising, handouts, polls, and unmuting attendees.
Want more webinar stats and tips? Good, because we just barely scratched the surface.
Download The Big Book of Webinar Stats to gain access to more webinar benchmarks, trends, and best practices.