Whether it's a dispersed team meeting or a pitch to a prospective client, it's hard to argue about the added value video can bring to a meeting. Video conferencing gives you the benefit of being face to face without needing to travel large distances to get everyone in to the same room. This is why we are so excited to announce that we've expanded the number of video feeds available within GoToMeeting to 25.
That's right, starting today all GoToMeeting Pro and Plus tiers will automatically have 25 cameras turned on to their account. The next time you go to fire up an online meeting you will see new simple and easy to access controls at the top of the windows with helpful icons and text to teach you all about the new feature.
25 video feeds allow users to feel like their meetings are more like a conference room where you can see all participants. Team leads with remote workers are able to view their entire teams at once, multiple remote locations meeting in conference rooms can be more interactive, even board meetings can be handled with a GoToMeeting vs in a conference room.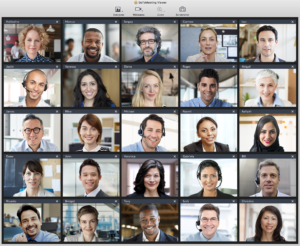 Turning on webcams creates that human connection to help with everything from getting to know your team to more efficient sales conversions. It's the same GoToMeeting simple interface you are already familiar with, now with even more options to allow you to accomplish team work from anywhere!
Check out more tips and tricks here!