Welcome to our new GoTo blog! Today's successful CIO's and leaders have a lot to juggle and they must think more strategically than ever. We're here to help you build a communication and collaboration suite that will help you drive business growth, support a flexible workforce, and keep your customers happy. Our first post reveals some new insights about the classic problem of workplace distractions, and how technology is part of that problem - yet also part of the solution.
__ __ __ __
Advances in technology in just the last 5 years have driven massive change in communication and collaborative workplace behavior. But despite all this innovation, today's organizations still deal with one of the "same-old, same-old" challenges in productivity – workplace distractions. In fact, our research shows that the influx of tools and apps that are meant to improve productivity and boost collaboration have actually exacerbated the problem!
GoTo conducted a survey examining the daily workplace behaviors, distractions and tools used by 2,000 office employees in the U.S. and around the world. This research showed that workplace distractions goes well beyond typical environmental interruptions to workers multi-modal multi-tasking. Not only are they working between disparate apps and devices, but they're tackling work and personal tasks simultaneously.
Growing distractions driven by blurred boundaries of work and home life
Water cooler conversations have been around since the water cooler was invented, and they're a natural, welcomed part of any office culture. But today, it's more than just a quick break - employees are constantly toggling between work and personal topics on any one of the hundreds of apps and devices they use. Our survey showed that 54% of people have at least five different computer programs - including workplace tools, apps and management programs – running on any given day. The average office worker is simultaneously working on a document on their computer, with a dinner recipe open on a browser tab, responding to a text about daycare pickup, and scheduling a new meeting in their calendar app. They may even be doing all this while on a video conference to a colleague in London! It sounds exhausting, but it's our reality.
And this blurred line of multi-tasking from sunrise to sunset has added a new element of distraction to our daily office lives. Now that the door has opened to personal tasks being completed during work, it's become the norm: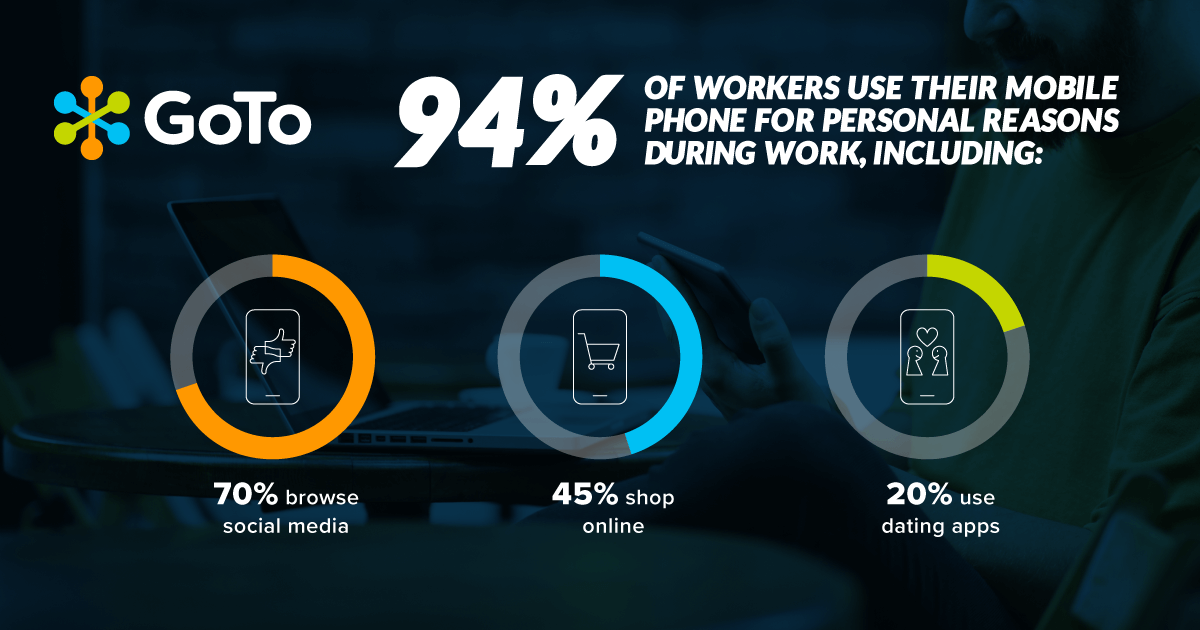 Plus, loud conversations (51%) and office phones (49%) and construction noise (31%) were reported as the top environmental distractions in the office.
Too many tools, not enough time
Employees today are also struggling with the number of different technologies - and especially collaboration solutions - they have at their fingertips. While these solutions are meant to make workflows more efficient, the problem is there are often too many of them. Today, everyone in the organization – from management, to team leaders, to individual workers - are all enabled and fully capable of choosing and downloading productivity tools. This often leads to whole laundry list of options for each individual worker, and projects that span from one tool to another to another. Workers are losing momentum and wasting time swapping between all the different tools for different tasks, rather than being able to maintain focus and handle all of their communications from a single, centralized point.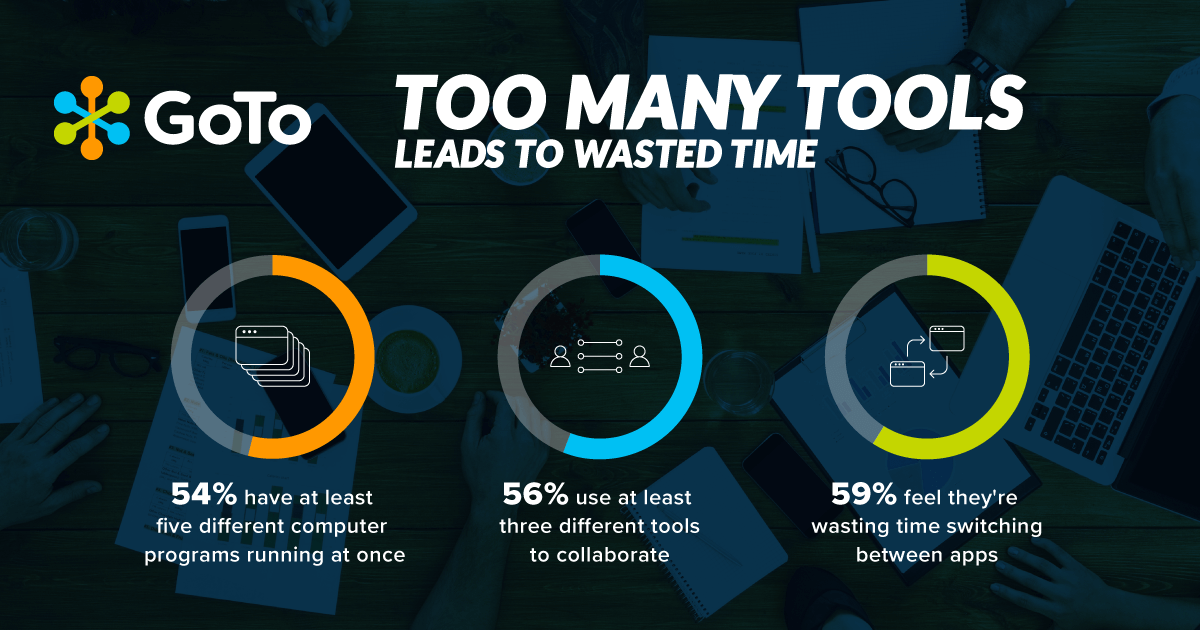 The consequences and slip ups
Distracted workers and a lack of productivity aren't the only concerns at hand here. This multi-modal multi-tasking is causing some problematic (and potentially embarrassing) situations for employees.
57% of respondents said they've sent an email to the wrong person
33% reported they've sent an email or chat before they're ready
23% said they've accidentally sent a chat to someone talking badly about them (whoops!)
Eliminate all the noise with remote work and consolidation
There's no single answer that will change the culture of your organization and prevent employees from doing 6 things at once - but organizations can take a few simple steps to help workers stay focused and drive productivity.
1) Embrace flexible work policies. Empowering employees with the ability and technology to work remotely or on a flexible schedule can drastically improve how they're balancing their personal activities at work and vice versa. Our previous research has proven exactly how much employees value the ability to work remotely, as part of their overall happiness at work or when they're considering career moves. Providing staff with the trust and flexibility to work remotely empowers them to manage their schedules and work environments in ways that work best for them.
2) Consolidate your collaboration tools. Leadership today has a massive opportunity to improve worker productivity by leading a consolidation initiative of their communication collaboration technologies. Not only can this lead to massive cost savings, but it significantly uncomplicates things for your employees. With a single, comprehensive platform that powers all communication and collaboration, there's no more toggling between messaging apps. There's no debating which meeting tool to use to reach a client, or searching for the correct dial-in number from a previous conference call. Everyone is reachable in the same way, from the same place, without the cognitive overhead. Your employees simply can get more done, in less time – and often at a lower cost to your company.
__ __ __ __
Subscribe to our blog today to stay in-the-know on the latest collaboration trends that fit the needs of your business goals and the modern worker!