April 13, 2023
Senior Content Marketing Manager
Our customers say it best — "Their software and product names have evolved, but what has remained consistent is that it is reliable" (read full review). At GoTo, we're committed to serving our customers. And today, we're proud to share highlights from G2's Spring 2023 reports.
GoTo earned a #1 ranking in 12 reports including multiple first-place rankings for GoTo Resolve and GoTo Connect. In the small business category specifically, GoTo earned Leader, Easiest Setup and High Performer badges.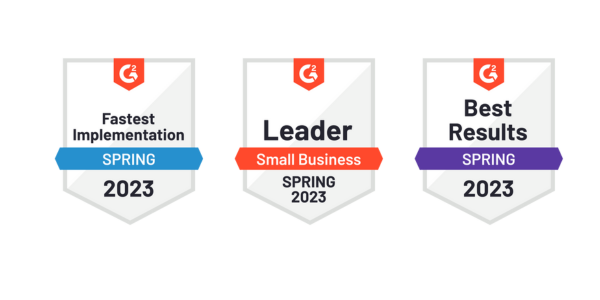 GoTo Resolve: Maintained the Fastest Implementation, Most Implementable, and Easiest Setup awards by ranking #1 in the Service Desk Implementation Index.
GoTo Connect: Earned the Most Implementable badge for achieving #1 rank in the UCaaS implementation index and small-business implementation index. GoTo Connect also maintained the Best Results badge for #1 ranking.
G2 is the world's largest and most trusted software marketplace. With 1.8 million reviews and counting, G2 helps people around the world make better buying decisions — and reach their potential.
We are especially thrilled that these top rankings were based on positive reviews from our customers and your business professional peers. Check out what a few had to say below:
"[GoTo Resolve] provides immediate support to an end-user client. The ability to see what the client sees on their screen is invaluable and allows for quicker resolution of many problems." – Ken Z., Small-Business (read the full review here)
"The UI for rendering support is very clean, functional, and organized, making it very easy to use. I work for the IT department at a small-ish business and we have used several different remote support platforms. GoTo Resolve is by far the easiest and best looking. – Greg P, Mid-Market (read the full review here)
"I've seen so many innovations and features added that have just revolutionized the way we use the product. With how customizable the options are, GoTo Connect can seriously provide solutions for nearly any business's needs, no matter the size or requirements of that organization." – Kiersten K, Mid-Market (read the full review here)
"I like the [GoTo Connect] graphical user interface when creating the call flows. Since we are a small team, the ability to easily manage the users and system without a lot of technical training is key for us." – Ralph W, Mid-Market (read the full review here)
To learn more about GoTo's business communication and IT support and management solutions, visit goto.com