In case you hadn't heard, GoToWebinar has some new product updates we can't wait for you to try. Whether you're using webinars for marketing, training, or internal communications, these updates will help you put on captivating webinars easier than ever before.
Here's what's new:
New webinar hub for private sharing or public discoverability
How often do your old webinars just end up sitting on some forgotten landing page or in your webinar archive?
If you want to share your on-demand webinars, GoToWebinar's Channel Pages make it easier than ever. Your Channel Page is your own branded webinar hub. You can customize your page with your logo, imagery, and colors then host any or all of your on-demand webinars there. Check out Content Marketing Conference's Channel Page below.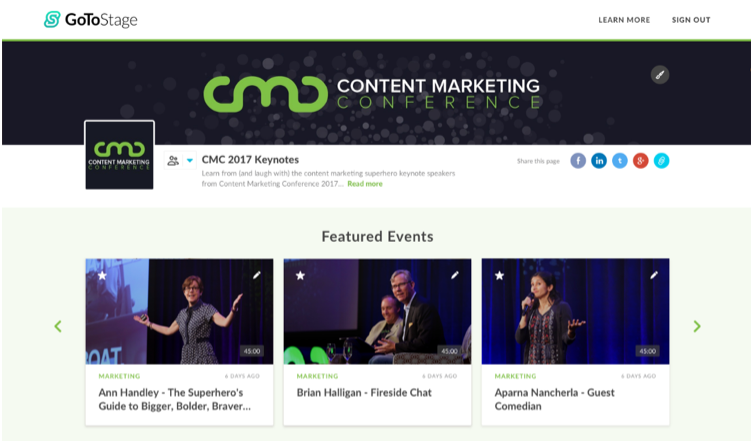 GoToWebinar customers can also make their webinars and Channel Page available on GoToStage, where viewers can find them according to the topics and brands they're interested in. Viewers will be able to subscribe to your Channel or relevant topics so they stay up-to-date on the latest content. You can also tag your webinars with relevant keywords so they will be displayed in search engine results for added visibility.
Get to know your audience with improved Q&A reports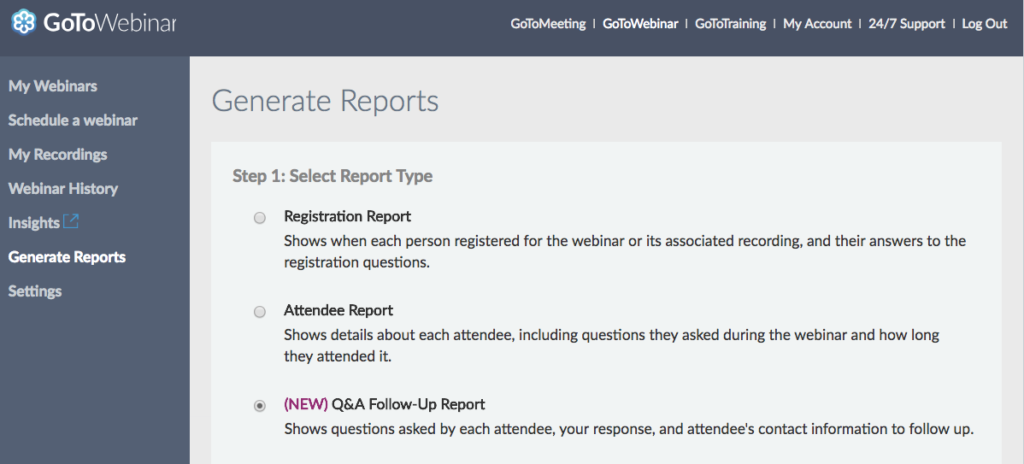 Knowing who's asking questions and what they're asking can help you get to know your audience on a whole new level.
Take a look at the number of questions each attendee asked to see who was really engaged and who was barely listening. Use popular questions to help guide your next webinar topic. Or, when hosting a marketing webinar, use attendees questions to personalize prospect outreach.
With our updated Q&A reports, it's easy to get all this data in one easy spreadsheet, and put it to work.
Pump up the energy with video
We tend to think of a webinar as a speaker or two and a slide deck. But using video during your webinar can add variety to your presentation and grab your audience's attention.
Play a video to break the ice, explain a complex topic, or show the perfect demo. If you can't schedule a webinar around your panelists' busy schedules, pre-record their presentation then play it during your live event. There are so many ways to incorporate video to delight your audience — and make your life easier!
GoToWebinar has improved our video sharing feature so when you play an MP4 video during your live webinar, it will play back on the webinar recording. Now your on-demand webinars are as good as the live event.
Simplify your workflows with new and improved APIs
GoToWebinar integrates with the marketing automation, CRM and other tools you use every day including HubSpot, Salesforce, and Zapier to name a few. This gives you the control and data where you need it.
Now with the new version of our APIs you have even more control and flexibility. Our updated APIs give you full access to GoToWebinar. You can do things like schedule webinars, capture registrations, manage registrations and attendees, and view data in the systems you already use. This helps streamline the webinar set up and execution process. For more information, visit our Developer Center.
Custom registration disclaimer to support your GDPR compliance
The General Data Protection Regulation (GDPR) is in effect, and GoToWebinar is not only committed to meeting all GDPR requirements but also helping our customers do the same. GDPR is all about giving people control of their personal data and how it's used. Now, when you use GoToWebinar's registration pages, you can add a checkbox with a custom disclaimer message. This way, your webinar registrants know exactly what they are agreeing to and can provide their explicit consent.