What is a virtual conference? A virtual conference gives participants the ability to come together, connect online from anywhere and attend multiple webinar sessions as part of a single event.
With a typical one-session webinar you face the challenges of:
Finding THE topic that will resonate best with your audience
Securing a speaker that not only catches attention but keeps it
Engaging and nurturing your audience beyond the 45 webinar minutes
But a virtual conference gives you a great opportunity to offer participants a broader portfolio of topics and speakers and let them attend the sessions most relevant to them.
Since I started organizing virtual conferences back in 2014, I've learned a lot about what works best and what to avoid. Here are my top three reasons why virtual conferences are my favorite lead gen tactic and how to make them work for you:
Reason #1: Letting people pick their favorite topic increases attendance rates and gives you valuable performance insights.
I've learned that I generate more awareness and drive more webinar registrants when I offer multiple topics on a broader scale. The reason is simple: people pick the topic most relevant to them, register for the full virtual conference, then attend more sessions than they initially planned (it helps when there's cross session promotion).
Pro tip: Provide a single link that allows registrants to watch all sessions instead of separate links for each session as the latter significantly reduces the number of people who log back in after leaving a session. Once registered, people can use the same link to easily jump on and off again – which analytics prove they do. This behavior provides valuable insights into what topics resonate most with your audience.

Reason #2: Building a nurture stream within your virtual conference leads people through your funnel in a single touchpoint.
Some years ago, it was a common rule of thumb that people need roughly seven touchpoints to make a buying decision. Nowadays we are drowning in content, offers, and marketing channels, and buyers need even more touchpoints to understand your brand and make a decision.
Why not include a few of these touchpoints within a single conference? Think of the classic lead funnel and try to replicate the main nurture phases: Awareness, Consideration, Decision.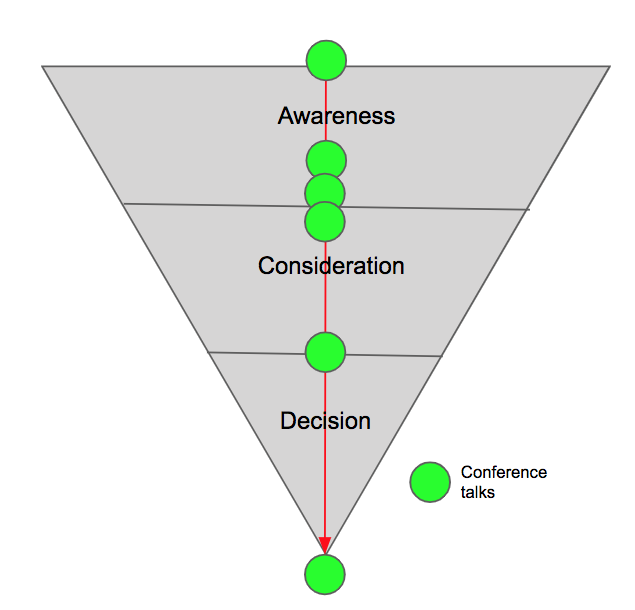 When choosing virtual conference topics, select some topics that appeal to a broad audience – these are your top-of-funnel sessions. Follow up your awareness sessions with a session more closely related to your own offering or product.  But always make sure your content is valuable, educational and not a sales pitch (see reason #3).
Continue building up your conference agenda based on this nurture logic, choosing topics that relate to each other and help lead people through the funnel.
Pro tip: Use webinar analytics to track which virtual conference sessions registrants attend, and push these insights into your marketing automation to inform lead scoring and audience segmentation for further lead nurturing.
Pro tip: Based on experience and attendee surveys, I recommend shorter sessions of 15 minutes to a maximum of 25 minutes. Have speakers focus on providing inspiration and ideas to get attendees going instead of covering too many details. This approach helps attendees digest content more easily. It also piques curiosity and interest so they register for follow-up webinars that dive deeper into the topic.
Reason #3: Strengthen your status as a thought leader by offering a series of relevant topics.
Don't underestimate the reputation that a high-quality virtual conference will give you within the marketplace. Who else can bring together speakers and topics of that quality, in a conference that is available everywhere at any time (on-demand)?
Use that reputation to extend your reach – people who know you are offering valuable content will help promote and distribute your content. The same goes for speakers and partners involved in the conference. In my experience, these people love to spread the word if they don't feel abused as a lead machine.
For example, I recently put on a virtual conference that brought together female marketing leaders from companies including Microsft, Facebook and Pinterest. These thought leaders not only brought their authority and expertise, they provided added exposure and reach.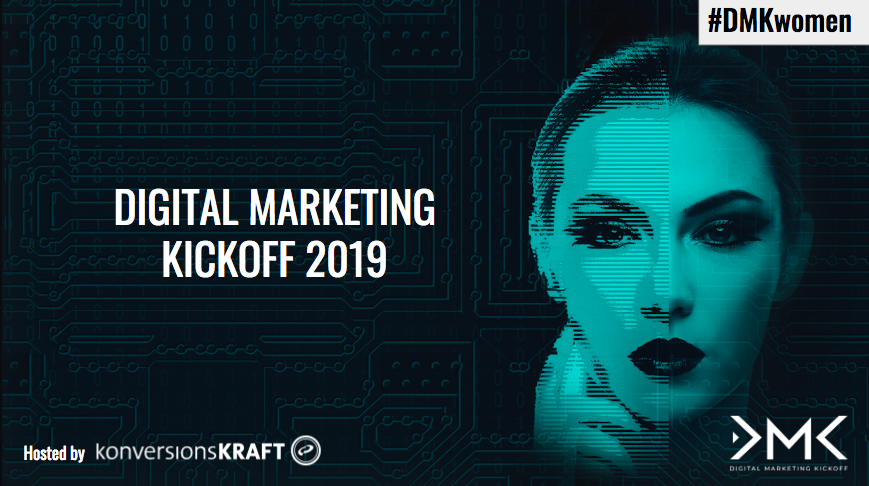 To further your reach, try building out social media campaigns around the conference. Running Twitter contests and prize giveaways is one great option to increase reach as attendees and speakers will tweet your conference hashtag helping make your conference a trending topic. Our Hashtag #DMKwomen ranked high on the conference day itself, making more people aware of the virtual conference who could join on the go or watch the recording later.
Pro Tip: Do not only focus on product relevant topics – content marketing is all about the story you tell. Becoming a thought leader works best when you leave your comfort zone and expand your presentations to hit on a variety of topics, from different perspectives that will resonate with multiple target audiences within your prospect base.
From my experience, virtual conferences take more work than other lead generation tactics (especially at first) but they will pay off! And don't forget: every session of your conference can be used as a single on-demand content piece later, providing valuable follow-up assets.