Anyone who has ever hosted a webinar might have faced an inevitable reality: promoting is difficult. There is one tactic, though, that will help you get more signup – and that is video.
Why Use Video to Promote Your Webinar?
Video is taking over. In fact, video marketers get 66% more qualified leads per year and achieve a 54% increase in brand awareness. Video also helps with conversions: 70% of B2B marketers say video is the most effective medium to drive conversions.
Promoting a webinar with video makes perfect sense because a webinar itself is a form of video marketing. Here are three ways how you can dramatically increase your webinar signups with video.
1. Create a Social Video
Social media is a great channel to incorporate into your webinar promotion strategy. When promoting an upcoming webinar, create a catchy video to go with your tweets and other social posts.
In order to make sure your social video gets the attention it deserves, focus on these details:
Make it short.
Unlike your webinar, social videos need to be short. In fact, the optimal length of social videos is between 15 seconds and 2 minutes, depending on the platform. A good rule of thumb: the shorter the video is, the better.
Start with the webinar name.
Let your viewers know right away what the webinar is going to be about. Make the title of the webinar as the first slide in your social video to hook your viewers from the first second.
Add a call to action.
Your social video has one purpose – to drive webinar registrations. Don't forget to add a call to action both to your social post AND the video itself. This way, your viewers will know exactly what to do. And make sure the webinar link is there, too!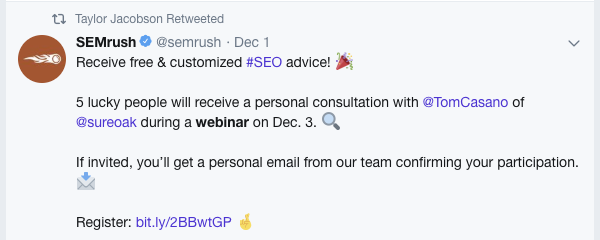 Tag participants.
If you have a guest webinar presenter, tag them in the social post accompanying the video. It will give the post additional exposure and make it easier for the guests to share it too.
Include a host image in the video cover.
It's a fact: the human brain is hard-wired to pay attention to human faces. When creating a promotional video for your webinar, try including an image of a person to the cover or the first slide of the video.
Similarly, ask your guests to record a short intro video for the webinar. In the intro, they can say a couple of words about who they are and what the webinar is going to be about. Works great for user engagement.
2. Use the Power of Email
Email is one of the best ways to promote your webinar. In fact, email drives the vast majority of webinar registrations.
Stand out by using a video in your webinar email invitation. Unfortunately, most email providers still can't play video right in the email, but there are several ways you can get around this problem:
Include a GIF in your email.
Technically GIFs are images, but they have a dynamic movement like a  mini-video. And they are sure to grab attention.
Create a GIF from a webinar intro video or just use an image with an animated text on it.
Add an image that looks like video.
In order to do that, put a play button on top of the image. Here's an example from Wistia.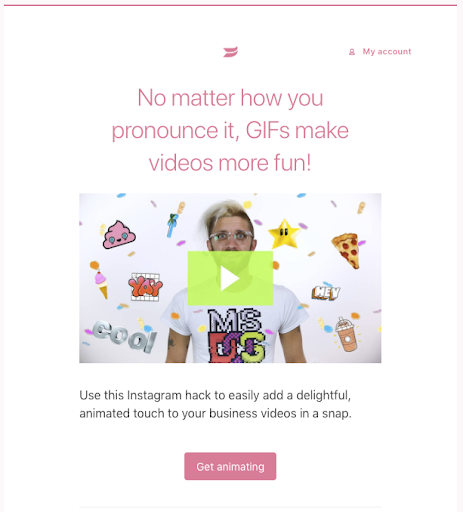 Embed videos from YouTube.
If the majority of your audience uses Gmail as their email provider, you might consider adding a link to a YouTube video to your next email. Since the two services are connected, your readers will be able to watch the video without leaving their inbox.
With a combination of these tactics, you can nail it with your email webinar promotion.
3. Add video to your blog post
If you create a blog post announcing your webinar, embed an intro video to it. Some of your readers might want to read the text description while others will appreciate the option to watch a short video instead.
The intro video might include:
The webinar name, time, and place
The speakers' names and their short bio
Webinar agenda
A call to action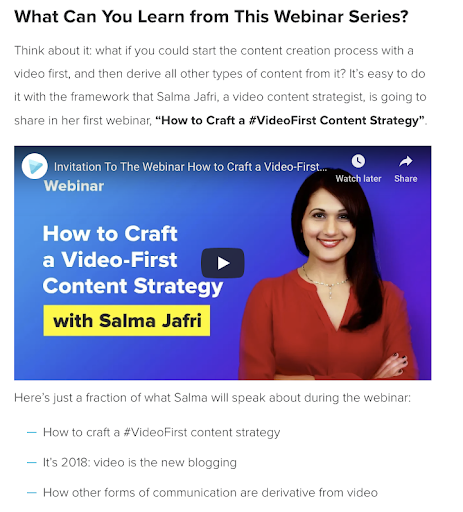 Conclusion
When it comes to increasing your webinar signups, video is a powerful tool. With a combination of social videos, email, and blog posts, you can dramatically increase your webinar registrations.
Have you tried promoting your webinar with video? Share in the comments below!