Security remains a top priority for businesses as they suddenly shift to full-time remote work during the COVID-19 pandemic. Even in the best of times, security is a multi-faceted problem for organizations. According to recent LastPass research, the top security concerns among IT leaders range from securing data (75%) to reducing risk (68%) and securing new technologies (68%). In today's environment, "securing new technologies" likely includes enabling video conferencing and collaboration software at a break-neck pace to enable employees to work remotely.
Over the past few weeks, we've seen some companies and individual users fall into preventable (and often embarrassing) meeting traps, as they adjust to using online meeting software every single day. But preventable is the key word here! GoTo Meeting's intuitive interface and innovative feature set includes a range of options for users to manage the privacy and security of their online meetings. Here are GoTo Meeting's five best practices for hosting secure meetings:
1. Use Meeting Lock for enhanced privacy
Imagine this: You've got a busy day filled with back-to-back meetings hosted in your personal meeting room. Some are with vendors, some with clients and others with your internal team. Try as you might, it's not always feasible for things to end on time, every time – and one meeting may get "crashed" by attendees waiting for your next one! Not only can this make for an awkward moment; it's disruptive to closing out the meeting on a productive note.
Busy schedules leave no time for logistics, but with Meeting Lock, you can breathe a sigh of relief. This feature allows you to easily and effectively prevent unwelcome attendees from joining your current session with one click. Once your meeting has started, simply press the toggle as shown below.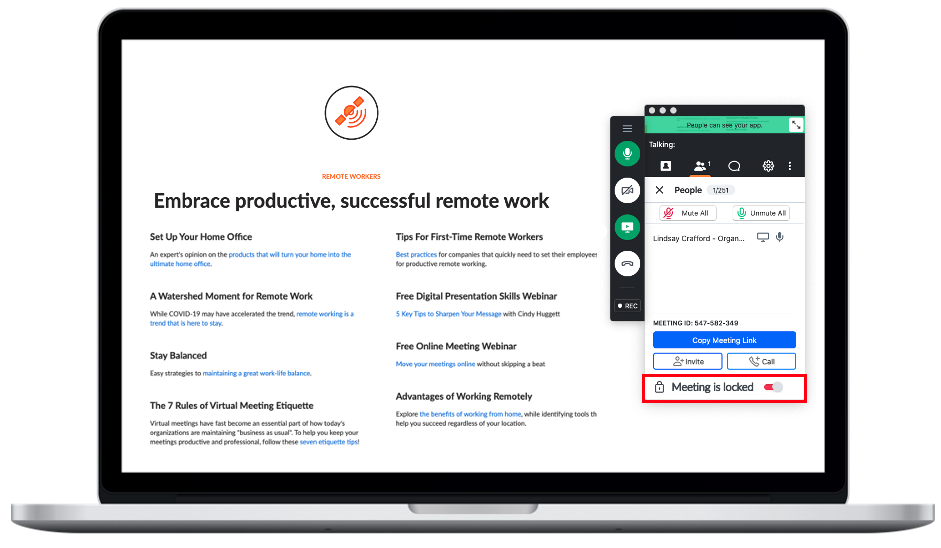 2. Keep tabs on attendees (and dismiss unknown ones)
When attendees join your meeting after it's been locked, they'll be placed in a "waiting room". This includes attendees joining from the desktop app, web app, mobile apps, room devices, and even those calling in! Once the meeting is unlocked, all attendees in the waiting room will automatically be connected to the meeting.
See the name of someone you don't recognize? You can remove an attendee from a session by dismissing them. They'll automatically leave the session and be notified that they were excused.
3. Password protect your meetings
As an Organizer, you can also choose to password-protect your meetings. Once password-protected, your attendees will need to enter the secret password of your choosing in order to join the meeting. Please note that only local recording is available for password-protected meetings.
Remember that you must send the password to your participants or they won't be able to enter the meeting. For security reasons, Go ToMeeting will never send the password on your behalf.
4. Manage access to shared meeting content
We're committed to protecting the content you share in meetings, which is why we provide Organizers with complete control over their security and content sharing settings. You can choose to let anyone or specific people obtain access to your meeting content, with customization available at the recording level.
These settings can be applied to all meetings, or to just a select few whenever you deem them to be necessary.
5. Chat mindfully
GoTo Meeting allows all attendees to exchange instant messages with other participants during a session. Still, not every question or comment is relevant to all stakeholders. If your concern needs to only be addressed by one or two people, simply use the "Send to" drop-down menu to select the recipients of your message:
Everyone: All participants will see the message in their chat pane
Organizer(s) only: All Organizers will see the message in their chat pane
Individual attendee: Only the selected Organizer or attendee will receive the private message
For more information, please review our Security Whitepaper, which details LogMeIn's approach to confidentiality, integrity and availability. You can also visit our Trust Center to learn more about the security and privacy features in place for each of our product families.
Discover even more remote work tips!
Still struggling with the transition to 100% online collaboration? We're here to help. Visit our GoTo Meeting plans or Remote Work Resource Center for advice on managing a remote team, hosting engaging online events, and more.