May 2, 2023
Vice President and General Manager, APAC
Discover how GoTo, the Official Communications Partner of Sydney Football Club, played a part in helping the Club navigate change, cope with uncertainties, build resilience and strengthen trust within the team, enabled by technology.
Adversity has continued to define businesses' paths over the past few years. The COVID pandemic shocked the world, and the ripple effects on every nation and their economy are still being felt. A recession looms in Australia, as GoTo's survey with One Poll found 79% of Australian business leaders believe one will occur in 2023. The key to overcoming this: resilience.
The story of Luke Brattan, Sydney FC midfield maestro, is one of setbacks, adversity, and ultimately triumph. Luke's story of resilience holds lessons for all of us, especially small and medium sized business leaders. During the 2021 A-League final, Luke Brattan received his first red card of his career, leaving the game early, a game Sydney FC would ultimately lose.
"Obviously walk off and you sit in the change room by yourself and first thing I heard was the crowd as they scored their second so yeah, it's tough and a bit of a dark place and you know, I feel as though I'm not just let the boys down but my family."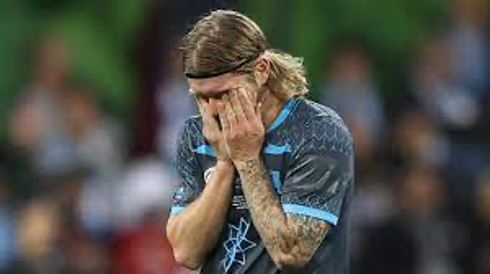 However, in his return match, things went from bad to worse. "My first competitive game back was the cup game, where I then went on to do my ACL. So yeah, adding to a bit of a low was, you know, probably the worst, worst period in my in my career."
But Luke's resilience shone through. Over the next 10 months, Luke worked to bounce back, staying motivated with the support of a strong Sydney FC network around him. With the right resources in place, Luke was able to recover from his setback and injury well, even wearing the captain's armband after returning.
"It was just a huge honour to captain any team and especially one with such huge history and such success like Sydney is, it was a privilege, and it was one of the highlights of my career."
Lessons to take from the pitch
Luke Brattan's story shows that resilience isn't a one-time event. It takes time, patience, and support. If you take things step by step, and break each business challenge down into conquerable parts, you can alleviate stress and burnout within the organisation, and remain resilient through adversity. A growth mindset is everything, and when adopted by business leaders, it instils confidence throughout the rest of the organisations.
To be resilient through economic uncertainty, companies and leaders need to begin preparing now to account for potential headwinds. Some ways for organisations to prepare include:
Ensuring 3 months' worth of "cash in bank" to have as a safety net during potential financial lows.
Diversifying business cash flows to ensure not all eggs are put in one basket.
Consolidating technology and re-evaluating tech needs to maximise ROI from solutions.
Organizations should also consider solutions that are affordable, and that bring a range of features into one platform. Overall, it is important it is a great fit for employees, and makes sure they feel connected, assisted and secure. By making these changes, organisations will be able to overcome any potential business setbacks and challenges they face during economic uncertainty, the same way Luke overcame his personal ones.