October 24, 2023
Senior Product Marketing Manager, GoTo Resolve
Here at GoTo, we are on an ongoing mission to empower IT professionals to do more with less. With that, we are thrilled to share a roundup of the latest and greatest additions to hit the platform. From streamlining day-to-day IT operations and helpdesk needs to introducing a new solution to manage assets, this is your inside look at how GoTo Resolve is making everyday work simpler. If efficient and integrated is your jam – keep reading for exciting developments that promise to enhance your GoTo Resolve experience!
IT Asset Management: One view of your IT assets
Now included in all standard and premium plans, the addition of IT asset management in GoTo Resolve ensures that all hardware assets are efficiently tracked and managed within the console. With nearly unlimited assets and customizable fields, categories, and labels, customers can model workflows and processes with ease.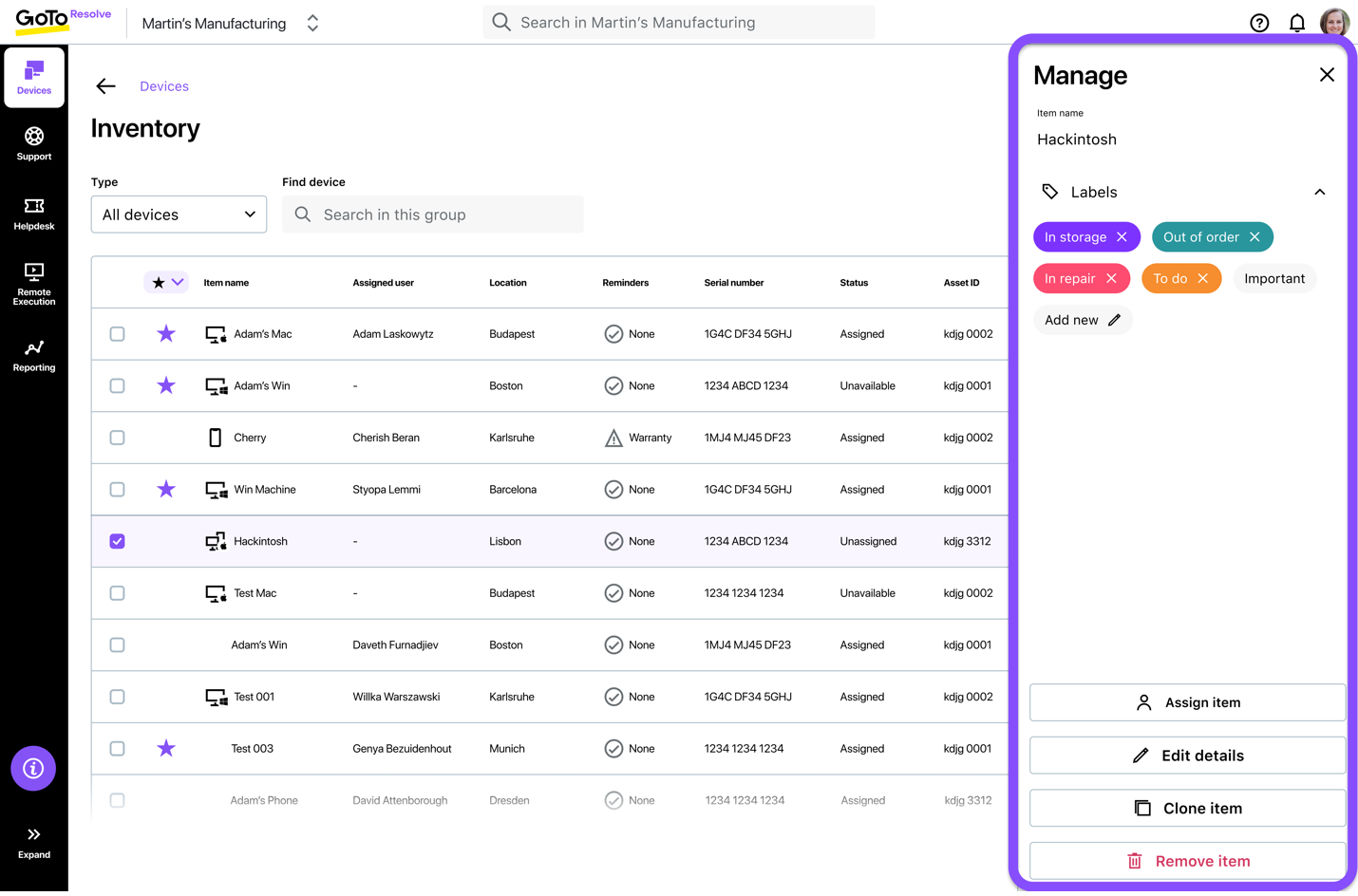 Logitech Integration: Remotely connect to and control CollabOS devices at scale
With this integration, Logitech's CollabOS appliances, such as Rally Bar, Rally Bar mini, and RoomMate, can be remotely accessed for streamlined control and support. With enhanced access capabilities, Logitech administrators can rely on GoTo Resolve to address local device issues without being physically present in the room.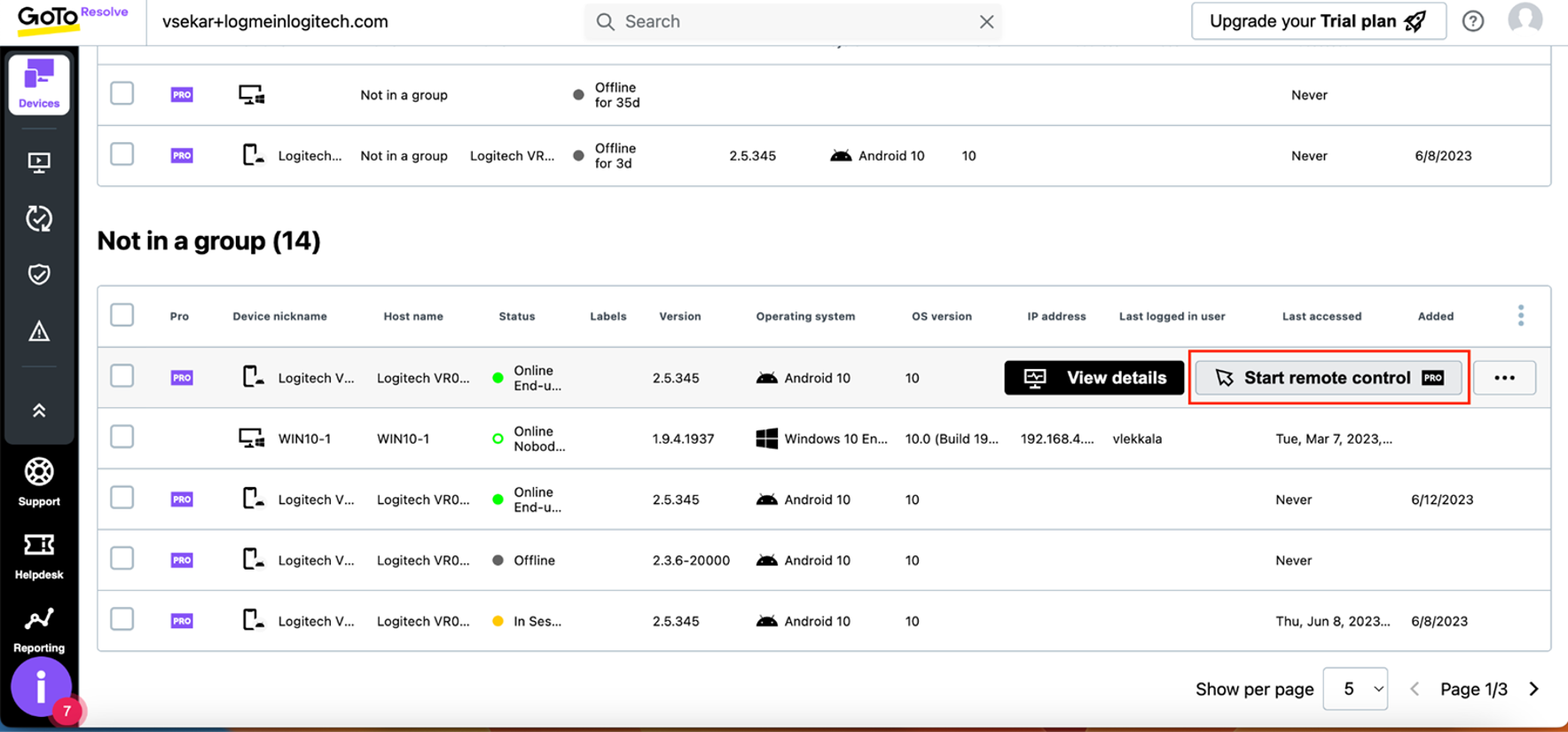 Helpline: Make user-initiated support sessions easier than ever
Are you eager to elevate your customer experience? Look no further! Introducing Helpline, an addition to GoTo Resolve that opens an extra avenue of support for both agents and end-users. Through the GoTo Resolve customer portal, users can seamlessly initiate sessions with agents. What's more, when this feature is activated, AI-generated troubleshooting tips are displayed when users await a connection with an agent.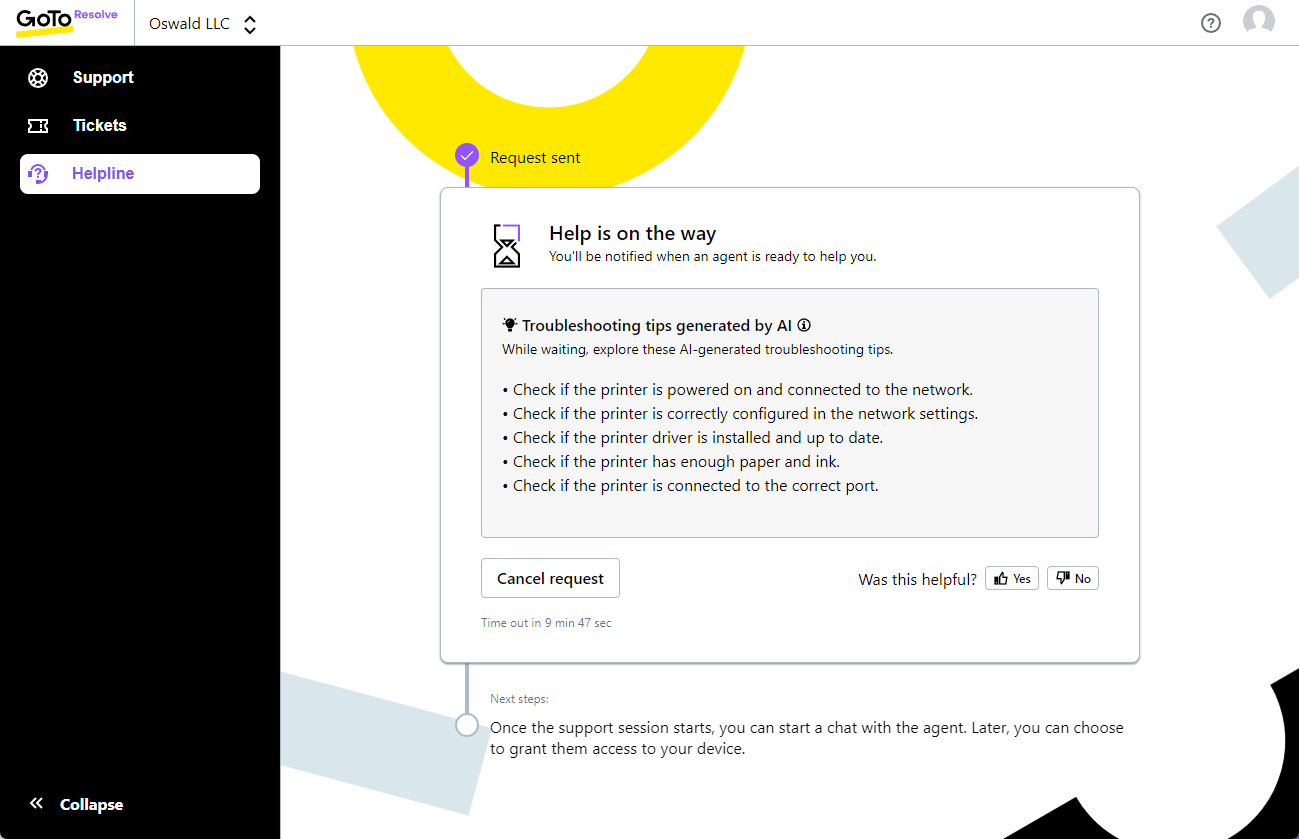 "Its simplicity has made it ideal for streamlining our HelpDesk workflows and delivering world-class support." – Joan K., Healthcare Data Analyst
Custom email: Create a unique email address for your helpdesk
Make your helpdesk email address truly your own. Create a customized helpdesk service email address that not only mirrors your distinct company identity, but also simplifies recall. This personalized touch ensures that your end-users can effortlessly remember and reach out when needing support.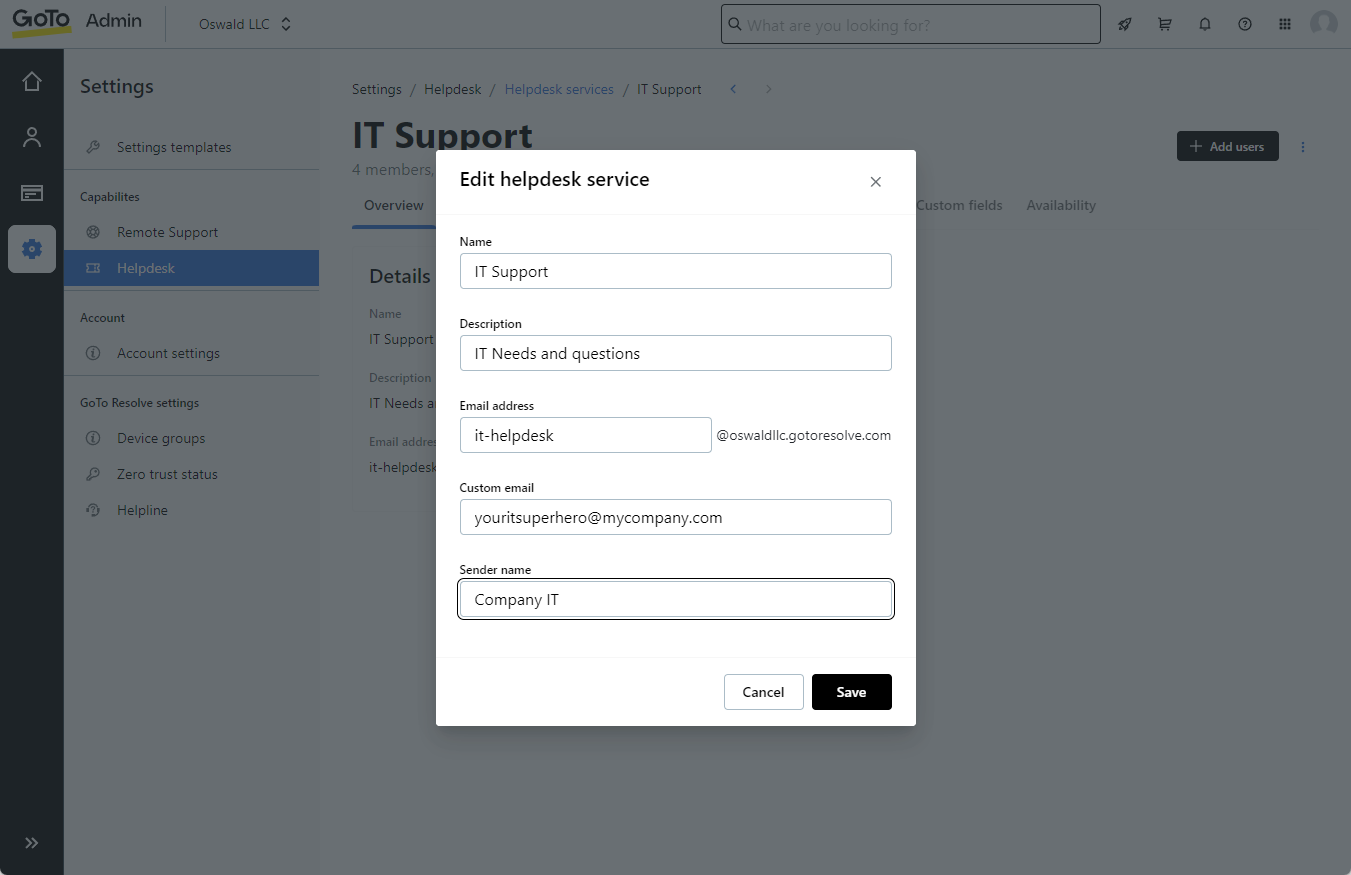 VoIP: Provide real-time verbal assistance during support sessions
Provide real-time communication in remote support sessions. With VoIP in remote support sessions, agents can initiate audio streams with an end-user from the chat window and ensure quick and effective problem diagnostic. Ensure instructions and troubleshooting steps are clear, gather more context, and reduce friction points.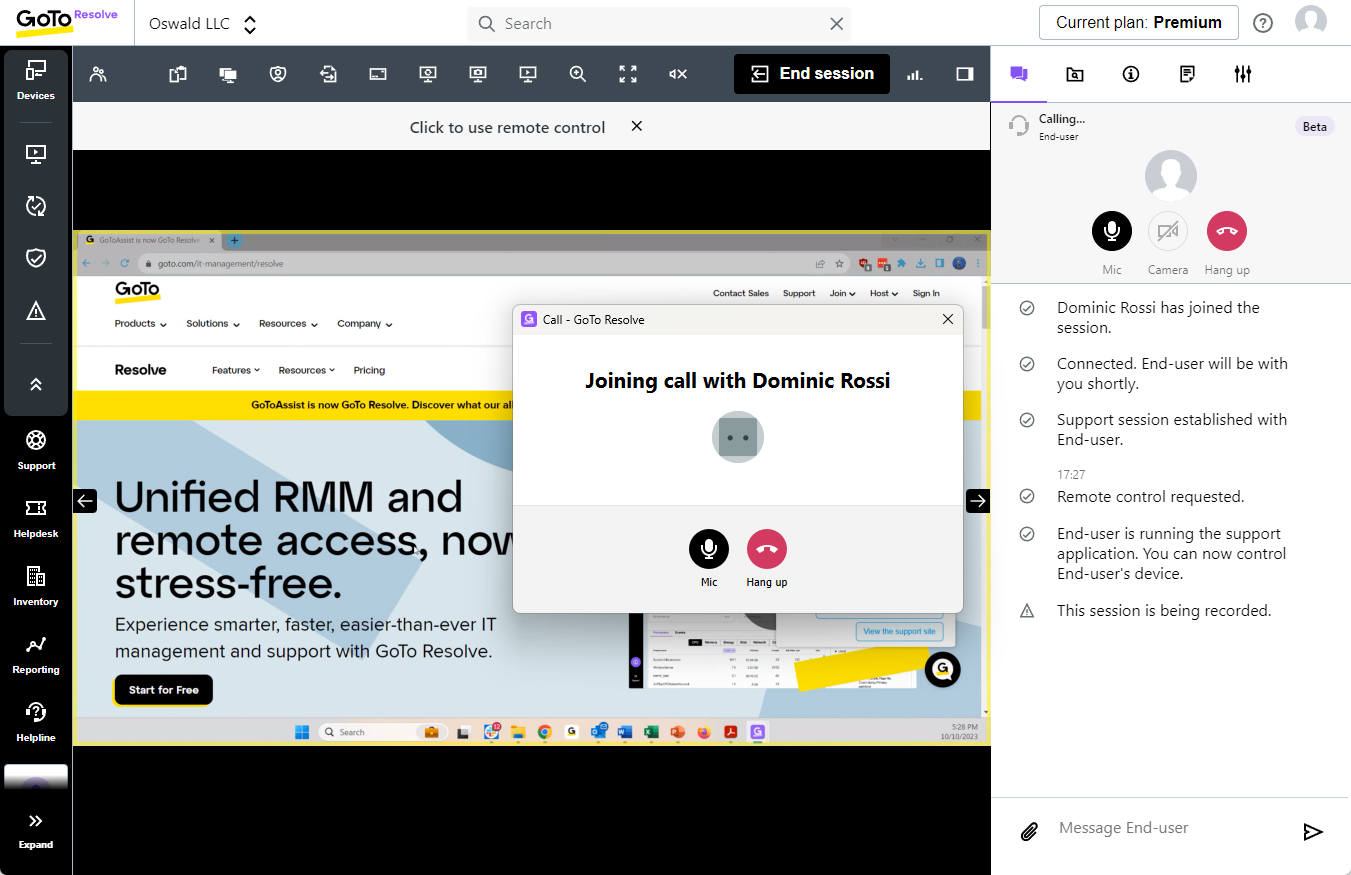 Dashboard: View managed device and ticketing insights
GoTo Resolve's new dashboard delivers real-time insights into critical device health and helpdesk metrics. With this overview at their fingertips, agents can stay on top of vital information that demands immediate attention, such as ticketing, updates, alerts, and antivirus notifications.
"GoTo Resolve provides everything we require to operate our business from everywhere - all in one location." – Allen C., Senior Full Stack Developer
Recurring Remote Execution: Put routine tasks on automatic
With recurring remote execution jobs, agents gain the ability to establish scheduled remote execution tasks that operate on a daily, weekly, or monthly basis. This functionality not only streamlines the automation of specific actions or commands on remote devices, but also contributes to the ongoing health and security of your IT infrastructure. Say hello to effortless efficiency.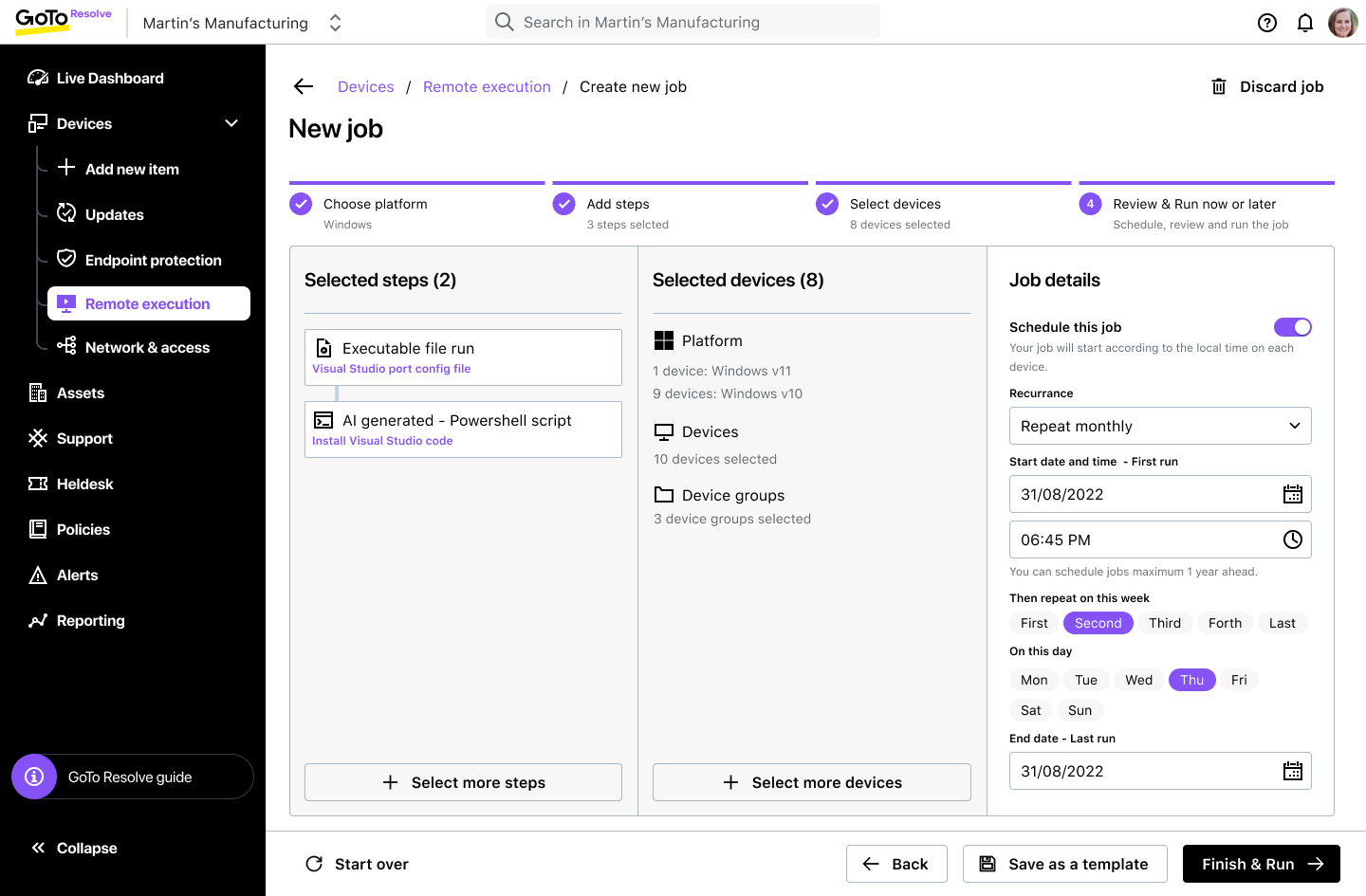 "GoTo Resolve is one of the most secure apps in its category, also simple and easy to use." – Sachin S., RPA Developer
More new features and enhancements
Beyond these updates, we have even more new features to unveil, each designed to enhance the experience and workflow of GoTo Resolve users.
Link-based device enrollment: Agents have the flexibility to choose between a downloadable file or link to share with an end-user. This streamlined process means enrolling devices in GoTo Resolve requires less effort and improves the user experience.
Enhancements in alerting: Additional alert types were introduced, such as connectivity alerts, as well as the ability to apply alert policies to specific device groups.
Streamlined device management: Agents can execute rapid actions directly from the device details page, including tasks like flushing DNS cache and initiating a forced reboot.
Session API: Empowers partners and developers to easily integrate with GoTo Resolve and perform actions such as retrieving session information, creating a session, subscribing to session-related updates, closing a session, and more.
Helpdesk improvements: Further enhancing the helpdesk experience for agents, several subtle yet impactful changes have been implemented. These include improved text formatting capabilities, the ability to tailor ticket status to suit unique workflows, the convenience of opening tickets in new browser tabs from ticket views, and the addition of a search function for categories and tags.
Multi-agent collaboration in unattended sessions: Multiple agents can simultaneously view and control the customer screen, retrieve diagnostic information, and chat with each other and the customer during unattended support sessions.
Mobile ticketing push notifications: Agents can receive mobile push notifications via the GoTo Resolve agent mobile app whenever new tickets are created or existing tickets are changed.
Next up: Pushing productivity boundaries with AI
Finally, expect some very impactful innovation over the coming months with the beta release of our new AI Assistant later this year. This AI Assistant will quickly become an IT professional's trusted sidekick, helping collect and analyze relevant device health information (think resource utilization, last reboot, application update status and more) and then provide recommended follow-up actions to address issues. This new, innovative approach will eliminate a bevy of manual actions taken today – along with a few potential missed actions – and jump start resolutions. Stay tuned for more about this AI Assistant in the weeks ahead.
Get started with the new and improved GoTo Resolve today
While we're excited to share these highly requested releases; they're just the beginning for what we have in store. Learn more about these updates and what's coming in our October Release & Roadmap Webinar.