In 1987, the Gartner Group coined the industry term, Total Cost of Ownership (TCO). Gartner's term—helping businesses calculate the life-span cost of a technology as opposed to the sticker price value—is now a standard for any company buying or selling innovative technology.
So let's talk TCO for two different mid market business phone systems: legacy PBX and Hosted VoIP. What's the true cost of an on-premises PBX system, and how does it compare to a cloud-based alternative?
We've organized this TCO analysis into two categories:
Upfront Costs

Operating Costs
What are the upfront costs for mid market business phone systems?
Hardware

Network Upgrades

Trunk Lines

Training

Operational Implementation
Hardware, Network Upgrades, and Trunk Lines
With legacy business phone systems, you purchase your on-site PBX hardware and business phones up front. Keep in mind that buying the newest and greatest on-premises PBX costs a pretty penny for mid market and enterprise customers. And then there are additional costs for LAN or WAN network upgrades and/or trunk lines.
With a cloud-based solution, you just need to buy/rent business phones because a cloud service can run over your existing internet at no extra cost.
Training
Having an on-site PBX transfers a lot of responsibility to mid market IT department. This responsibility includes "extensive upfront training to administering switches and software, troubleshooting new phones, and to monitoring the system and network." The Aberdeen Group estimates that this upfront cost of training for IPT system ranges from $2,333—$6,767 per administrator.
With a cloud-based solution, it's quick and simple. Training administrators to use Hosted VoIP takes about half of a day. And at no extra cost, a company like Jive includes on-boarding materials like our regularly updated user guides and interactive training videos.
Installation
Any major overhaul of mid market business phone systems will require money. In this way, installing a new on-premises PBX or switching over to Hosted VoIP implementation costs are similar.
Upfront Costs Take Away
As far as sticker price goes, Hosted VoIP is the clear winner for mid market business phone systems. In Ovum's recent TCO analysis, on average for high-technology footprint businesses with 750 employees distributed over three sites, "cloud systems start at one-third of the cost of premises systems." For this hypothetical enterprise business, that's 4 million dollars in savings in the first year!
Yet the whole point of a TCO is to look beyond the sticker price, so let's keep going.
What are the operating costs for mid market business phone systems?
Maintenance Contracts

Software Assurance

MAC-D Service

Recurring Training
Maintenance Contracts & Software Assurance
With a cloud-based solution, you don't pay additional fees for maintenance and software assurance. Hosted VoIP service providers keep data and hardware secure and up to date. It's all part of the service!
That being said, instead of spending hundreds of thousands of dollars to purchase new on-premises hardware, Hosted VoIP distributes this cost over a contracted amount of time. In about five to six years, the costs of buying a new PBX upfront and paying Hosted VoIP service fees are about the same.
Ovum's TCO analysis reached similar conclusions. Their findings suggest that for a high-technology footprint company with 750 employees spaced over three different locations, cost savings found in upfront costs evens out by paying five years for Hosted VoIP yearly/monthly services.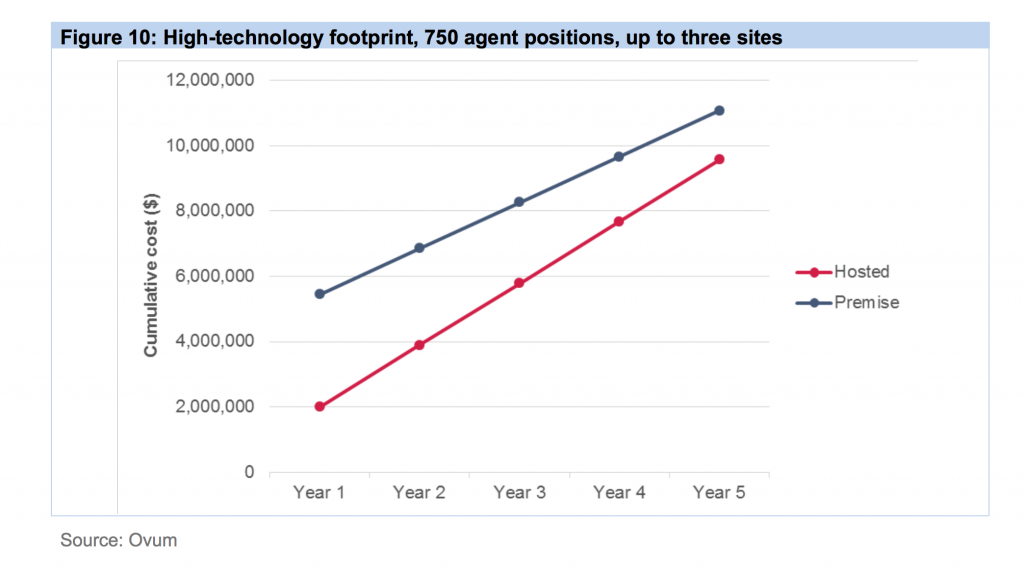 MAC-D Service & Recurring Training
MAC-D Services stands for Moves, Adds, Changes, and Disconnect service charges. This is the most substantial recurring costs with legacy and on-premises solutions. Why? Because legacy systems require external, certified support techs to make basic system changes. This means that a mid market company must pay a third-party service provider or hire a certified technician to handle everything in-house.
If you want to hire and keep technicians in-house, Aberdeen Group found that the recurring training costs for a technician ranges from $551-$6,391 every year.
With a cloud-based solution, the system is user-friendly. It's so easy and straightforward that administers can make changes themselves with a few clicks of the mouse. This self-sufficiency is one of the major advantages for switching to Hosted VoIP, as well as knowing that these MAC-D services are no longer unpredictable and expensive.
Operating Costs Take Away
Although Hosted VoIP saves mid market and enterprise companies millions of dollars in upfront costs, paying for five years of Hosted VoIP evens out the TCO between an on-premises PBX and a cloud solution. That is . . . if you're using a healthy on-premises PBX that requires minimal support, MAC-D Services, or in-house training. The unpredictable costs of MAC-D services and recurring changes can easily make a cloud-based solution an overall money-saver.
For more in-depth TCO analysis, please download Jive's whitepaper, "TCO Benchmarking: Cloud vs. On-Premises Voice." 

TCO Conclusions
Using a healthy on-premises PBX that requires minimal support, MAC-D Services, or in-house training for six or seven years has a comparable life cost to five years of Hosted VoIP. Yet a TCO comparison between products—like the one we just did—must take into account other considerations.  
Consideration #1: Will Your Company Use MAC-D Services, Support, and Recurring Training?
If you know that your company will go through a lot of growth and/or changes in the next few years, a TCO analysis will point to Hosted VoIP as the preferable mid market business phone systems. 
Consideration #2: What is the State of Your Current Phone System?
You need to consider the state of your current on-premises phone system. Companies like Cisco recommend replacing your on-premises PBX systems every 3 to 5 years, but many businesses will try to eek out nine to ten. If your company has a seven-year-old system, you'll likely encounter problems, spend time on the phone with customer support, and pay lots of money for services. In short, if your system is getting old, a TCO analysis will recommend switching to Hosted VoIP.
However, if you just invested hundreds of thousands of dollars in an on-premises PBX system in the past two years, a TCO analysis would recommend continuing to use that existing legacy system.
Until it falls apart.
It's a TCO Question of "When"
Even with a new on-premises system, your mid market or enterprise company will likely switch to Hosted VoIP within the next ten years because Hosted VoIP is just better.
Currently, a new on-premises PBX can get the job done. However, on-premises PBXs will almost be abandoned and irrelevant technology in ten years. The future of on-premises PBX is like the history of VCRs and the impending future of DVDs. Video tapes and DVDs still work, but how much longer are people going to buy DVD players and DVDs? The sticking point is that on-premises PBX technology will be abandoned because it can't match the nascent innovation of UCaaS.
Why? Hosted VoIP and UCaaS technology outstrips on-premises PBX solutions. The technology is just superior. You get more features. UCaaS is far more efficient because it eliminates the technical responsibility, upgrades, and support of a legacy PBX. You can also give your employees more effective and unified communication because it's easier to collaborate between company locations and support employees working remotely. It's even better when considering hiring. UCaaS technology meets the lifestyle and preferences of millennials that make up more than half of the current workforce. And that number of the millennial workforce is only growing.
So when conducting a TCO comparison between on-premises PBX and Hosted VoIP, the question isn't which you should buy. The real question TCO question is when mid market business phone systems should switch to the Cloud.