"If you can't measure it, you can't improve it." —Peter Drucker 
It's a new year: IT Directors and CIOs are planning a 2018 budget and setting Key Performance Indicators (KPIs).
Or are they? While it's traditional to submit budgets and set KPIs, Kaseya surprisingly found that KPIs are somewhat uncommon for IT departments. In their 2017 survey of 900 small and midsize companies—organizations up to 5,000 employees—less than half used the basic and conventional KPI, Service Level Agreements (SLAs).
While it may be difficult to measure the value of your IT department, it's a necessity. This article will illustrate why it's in your department's best interest to set IT KPIs—especially if you want to be in the room where it happens.
"Strategic" IT Departments
If you want to be a CIO with a corner office and direct access to your CEO, your IT department needs to be "strategic." By strategic, we don't mean just embodying the adjective. Strategic refers to a specific category within IT departments.
Let us explain. Because IT departments are evolving at differing rates, both Kaseya and CIO.com cannily created a taxonomy to distinguish the different roles IT departments play today. CIO.com used the labels: functional, transformation, and strategic. Kaseya came up with a similar model: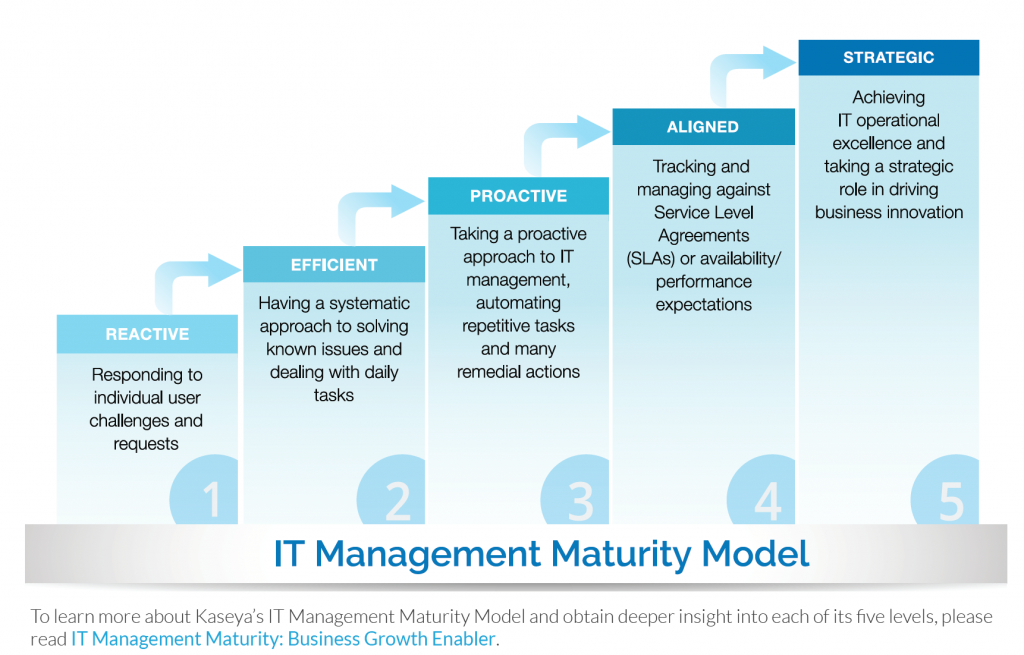 Is Your IT Department "Strategic"?
If your department solely responds to a ticketing system that reports company IT problems, you're functional. If your company is also developing new strategies and/or adopting new technology to lower costs and resolution times, you're transformational. Finally, if your department is also looking into how new technology can contribute to the vision and growth of your company, you're strategic.
Figuring out where you land on this scale is important because Information Technologies departments should set their KPIs based on:
Your IT department's place on the scale

Where you want your IT department on the scale
Hint: wherever you are on this scale right now, you should strive for a "strategic" IT department. 
Why KPIs Matter for IT Departments
Similar to utilizing IT's annual budget, KPIs are yet another important tool to expand IT's role within the company. In fact, there is a correlation between IT departments that use KPIs and IT departments classified as "strategic.
Surveying over 900 small and midsize companies around the world, Kaseya found that 46% of the self-identified "strategic" companies instituted an SLA KPI metric. In comparison, only 10% of "reactive" IT departments set SLA KPIs. It makes sense. IT KPIs illustrate the value of your department to company owners. Without KPIs, the IT department remains small and under appreciated.
So if you haven't set KPIs in the past, you need to start now. It will give your IT department a much needed PR boost.
6 KPIs for IT Departments in 2018
Functional KPIs
No matter how "strategic" your IT Department becomes, you will always be expected to meet basic functional responsibilities. Functional responsibilities are how smoothly you keep the IT at your department running and how effectively you respond to problems.
#1. Operation
Measure how well your department operates. For example, common operation KPIs are ticket response rates, resolution rates, and internal employee satisfaction working with your IT department.  
#2. Crisis Management
Specific and popular KPIs used to measure crisis management are Mean Time to Recover (MTTR), and system/technology downtime.
Transformational KPIs
You also need IT KPIs that address how well your department handles "transformational" responsibilities. This is how well you can improve and expand the roles in your IT department.
#3. Security
Technically, security falls under functional responsibilities, but the recent emphasis and investments in security can make it a possible area for growth. This is coming from the top down. Executives, more than ever, are concerned about security and turning to CIOs for help. So make sure you have a KPI that illustrates how you're working to alleviate executive fears about security.
#4. Customer Experience
Companies are investing in IT departments to improve customer relations. In an interview with Adam Dennison, senior vice president and publisher of CIO.com, Dennison was asked: "What would you say are the top priorities for CIOs today?" 
"No. 1 is transforming your organization to become more customer-centric. We asked both heads of IT and line of business leaders, 'How often are you meeting with external customers?' And we found that 76 percent of IT leaders are meeting with customers frequently or occasionally. There were only two other lines of business that outranked IT leaders in this regard: sales at 86 percent, and operations at 83 percent. Every other group, including marketing, was significantly behind the CIO. I found that very telling in terms of where CIO priorities lie."

—Adam Dennison, The Enterprisers Project
With such a large investment in improving customer experience, your 2018 IT KPIs should include a metric illustrating to executives that you're getting the job done.  
#5. Cost and Time Savings
How are you saving your IT department time and money? This is a basic "transformational" responsibility that you must illustrate within IT department KPIs.
Often this means investing in the right technology. Currently, a popular strategy is utilizing cloud-based services. For example, many companies are turning to cloud-based Unified Communications to improve efficiency and reduces the number of hours IT department spends fixing tedious problems. Jive's Hosted VoIP mid market TCO analysis illustrates how a simple switch from a legacy phone system to a Hosted VoIP solution can give your IT department more freedom, money, and leverage.
Strategic KPIs
Finally, if you want to be a "strategic" IT department, you need "strategic" KPIs.
#6. Profit
If you want IT to become more important, find a way to bring in money. Then measure how much money you bring in. This will really get the attention of company leaders and get you a seat at the executive table.
Of course there are more strategic roles besides bringing in money. To brainstorm other strategic IT KPIs, Sri Adusumilli presents a compelling list of possibilities:
Number of new or improved business opportunities leveraging technology

Revenue generated by leveraging technology by IT department

Your organization leveraging technology for competitive advantage

Your organization considered a technology leader in your marketplace

Your information technology department considered as a profit center
—Sri Adusumilli, VP, CIO, IT, Centric Parts StopTech Qualis
If you have any ambition for your IT department, you need to include and/or improve your KPIs. It can help you demonstrate that your IT department is ready for a "strategic" role in company development.
Make sure that your KPIs are addressing what executives want from their CIO. A solid strategy is to make sure that your KPIs address basic IT department functions, internal improvements, and a contribution to larger company goals—like profit and competitive advantages. When you hit all three, you may just be invited to the room where it happens.